Settled in 1922 by the French as a hill station, Sapa has quickly become a boom for tourism in the Northwest Vietnam. The destination is reputable not only for hiking throughout imposing mountainous terrains but also for some of the most unique and interesting hill tribe villages in the region. What set itself apart from other areas in the S-shaped country are the highland's spectacular scenes, bustling ethnic markets, incredibly welcoming locals, and mist-shrouded hotels. So, you will not be disappointed during a trip to Sapa Valley Vietnam for sure.
Sapa travel is indeed a fascinating journey through time and space, in comparison to the rest of Vietnam. The vista of the frigid winter temperatures, the alluring rice terraces, the distinct dialect of the hill tribes, the colorful vibe of Sunday markets, and the traditional batik handicrafts is always lively in front of your eyes. The list of what makes the destination unique is almost endless.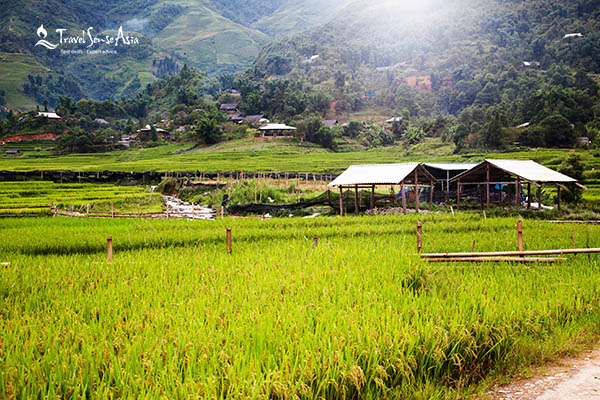 However, just bear in mind that the way leading to this highland is never easy, especially during in the rainy season. So, here is Sapa weather, in brief, you should take into consideration before traveling there:
Time from March to May is dry and warm, which is perfect for trekking and other outdoor activities.
Time from June to September is known as the rainy weather. But, the period is often crowded with Vietnamese tourists.
Time from late September to mid-December is cool and dry, which is ideal for going trekking and taking photos
Time from mid-December to February is harsh winter with cold winds from China. As a result, it is better to avoid traveling during that time.
In order to help you take your trip to new heights, we are happy to share with you the Sapa itinerary for 3 days for an unforgettable memory. Keep reading to enhance your knowledge and understanding right away!
The first day: Undoubtedly say Wow after visiting Lao Cai – Bac Ha Market – Sapa
Located in the Northwest of Vietnam, Lao Cai province is a flawless eco-tourism and community-based tourism site for travelers, thanks to its fresh and cool weather, untouched and majestic natural landscapes, as well as colorful culture characteristic. Coming there brings you a chance to admire a lot of notable destinations, ranging from enormous terraced rice fields in Sapa to Hoang Lien Son Mountain Range with the roof of Indochina – Fansipan Peak at an altitude of about 3,143 meters. Glorious caves and grottos are what you can also expect after setting foot in there, such as Ta Phoi Cave – Cam Duong District, Thuy Tien Cave – Bat Xat District, etc. Don't forget your camera for imposing photos!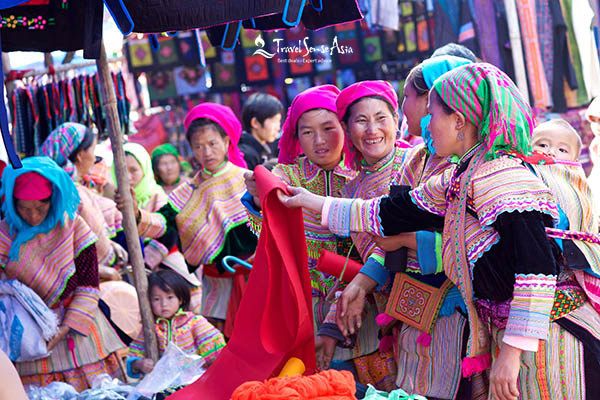 Continue the journey by exploring the Bac Ha Market to understand more about the local life of the ethnic minorities and their interesting culture, from what they eat, how they dress to how they communicate with each other. Located in Lao Cai, about 80 kilometers far from Sapa town, the market is opened on Sunday morning only. Hence, you should have your plan carefully arranged to make sure that you can check in the market with ease. Along with many different types of vegetables and herbs in its entrance, the place seems to be the heaven for those who love handmade scarves, which are quite cheap and beautiful in color. Of course, food section seems to be the best part of Bac Ha market since you can tickle your taste bud with various delicious local meals here, i.e. deep-fried pancake, chicken noodles, fried banana dumpling, and even a cup of Vietnamese coffee.
End the day tour through a trek to Ban Pho village – a mountainous commune of Bac Ha district. As a residence for H'mong locals, the village has its name well-known for the specialty, called "corn wine." Enjoying such type of wine will be one of your memorable experiences. Furthermore, the H'mong villagers are considered some of the kindest people on Earth, who are always willing to welcome visitors with their great hospitability and enthusiasm. The community enjoys a simple life; thus, don't expect loud music and bright lights in Ban Pho Village.
How Beautiful Sapa Valley Vietnam Is Through Trekking Sapa – Cat Cat – Y Linh Ho – Tavan
Undoubtedly, the former French hill station of Sapa is also highly famous as the prime hill tribe trekking destination in Vietnam, thanks to its excellent hiking opportunities, extraordinary scenery, and proximity to the Hoan Lien Mountain Range where you can see the high peak of Fansipan. And within the easy hiking distance of Sapa is the presence of many ethnic minority villages, like the Black H'mong village of Cat Cat, the Red Dzao village of Ta Phin, and the Giay village of Ta Van. Of course, the routes to such villages are likely to vary, ranging from easy gradients to steep descents. So, don't forget to find the route which suits any level of fitness.
You can choose day-trek tours using Sapa as your base. The days of trekking can last 2, 3, or even 4 days available by spending each night at a local homestay, which can also bring you fun and meaningful memories. The following is a close glance at some of the best hill tribe villages you should come in during a trip to Sapa Valley Vietnam. Let's find more about their culture and habits unchanged for generations.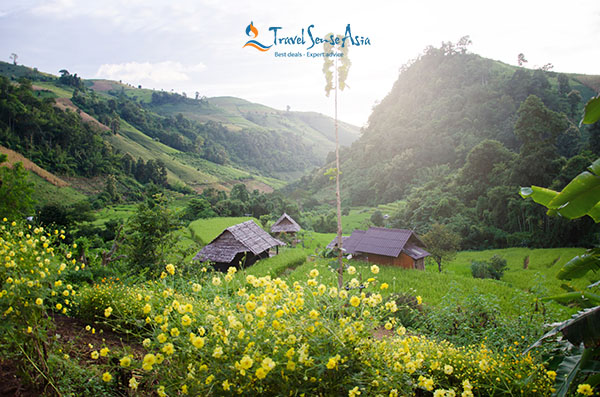 Cat Cat Village: Far only 2 kilometers from the center of Sapa, this is the oldest village of the Black H'mong community. Following the route going downhill to Cat Cat Village, your eyebrows will be raised by the gloriously imposing sceneries around. Actually, some traditional crafts, such as jewelry making, linen weaving, and floristry are still hugely practiced. The spectacle of beautiful women in colorful costumes sitting in front of the room while kids playing around with pets is very peaceful and popular.
Y Linh Ho Village: Going hiking through Y Linh Ho village gives you a chance to explore along such a picturesque valley lying between mountains. Your trek is said to be very comfortable, due to the fresh air and convenient conditions. In fact, this is just a small commune where a number of small hamlets are widely scattering on the rough mountainous terrain with very high and steep mountains. The Black H'Mong people take up the majority of the village. You can notice them easily, due to their prominent appearance with dark clothing in blacks and navy.
Lao Chai Village: As a hot spot for tourism in Sapa, Lao Chai is another homeland of the Black H'Mong. Such ethnic people are very warm and hospitable, who are always ready to welcome their visitors with the utmost enthusiasm
Ta van village: Far away 8 kilometers from southeast of Sapa town, Ta Van village is home to the Giay and H'Mong ethnic minorities. Their work is to produce and make sparkling silver. The best way to discover their culture, understand their customs and habits, as well as enjoying local dishes is to spend your time in their house and mingle with their daily life.
The last day: End Your Journey By Checking in Tavan – Giang Ta Chai – Su Pan
In the final day, after recharging your energy and having an exotic breakfast, you will be guided to enjoy the rest of alluring scenery on the way back to Sapa town. The itinerary for that day is shown as follow:
Giang Ta Chai Village: The village is mostly taken up by the Red Dzao, Giay, and H'Mong ethnic minorities. To go hiking to Giang Ta Chai, travelers will set off on an 18-km trek through beautifully terraced rice paddies, magnificent bamboo forest, in addition to spectacular waterfalls. It is worth remembering that Red Dzao minorities are the 2nd largest group of hill tribe people in Sapa Valley Vietnam. The notable sign is their colorful traditional costumes. Don't mind interacting with them as they are very kind and friendly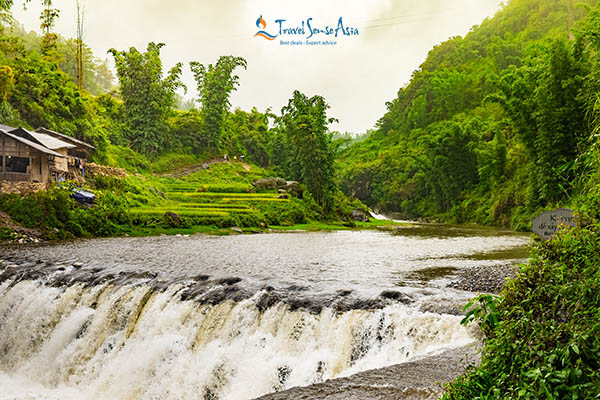 Su Pan Village: Perched on the high mountain, Supan Village is considered a mountainous commune. It is far 17 kilometers away from Sapa town. Consisting of 4 small hamlets, Supan is home to the Red Dzao and the Black H'mong. The truth is that H'mong people account more than 90% of the total villagers. Unfortunately, tourists will not witness the sound of commercialization or astounding scenery, just like some other villages, because of its poorness. But, what makes you truly impressed are the natural sights and simplicity of ethnic inhabitants. The main job of the locals is based on agriculture.
In short, the tour to Sapa Valley Vietnam is indeed a great opportunity to expose yourself to the distinctive cultures and vivid colors of Vietnam's ethnic minorities on an exciting trek through lushly terraced rice paddies, eye-catching bamboo groves, and simple poor villages in the shadows of Mount Fansipan – the tallest peak in Indochina. Happy trip!