There are many things to make the Halong Bay attractions, it is tough to decide on what to start with. Currently, Halong Bay now is considered as the paradise of islands with thousands of lime-stone mountains and islets in various sizes, shapes and ages. Furthermore, this is also a wonderful destination for cruising, kayaking and enjoying tropical charming beaches. Here are some recommendations to help you make the most of your trip to Vietnam:
Grace overview from above by seaplane
Board the seaplane for a flight to Halong Bay; you have chance to see Halong Bay from the sky before landing. A flight in seaplane has only seven people including one pilot and six passengers. Especially, you completely register alone if you traveled by seaplane. There is one to three round-trips flights between Halong Bay and Hanoi, but there are five to ten flights over Halong beach. Nowadays, many foreigners choose the trip to Halong Bay by seaplane to have an overview of scenery from overhead. Travelers come to Ha Long Bay. Take 25 minutes to visit Halong Bay from above. However, different with traveling by seaplane, tourists have trip by car, who want to grace Halong Bay from above need to apply in group over two people. The price ticket for one person is $92.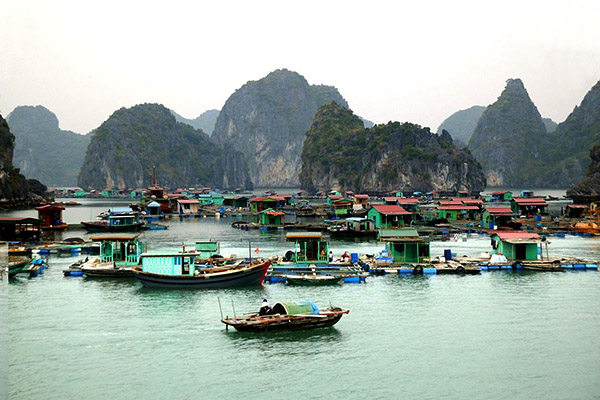 Discover Halong Bay by luxury cruise
You not only have a chance to discover several famous caves by cruise but also overnight on cruise. After finishing the journey by seaplane, you will check in the luxury cruise 2 days and 1 night. It ensures that you may be satisfied with the quality of accommodation and the delicious meals. According to the schedule of plan, while having the lunch, you also see the beautiful background of beach. We can note some excited caves for you to visit in the trip. For example, they are Dog, fighting chickens, incense burner, "Hidden Wooden", "Heaven" and Surprised cave. Of course, your tour guide will speak the historical and specific of caves are well-known for its stalagmites and stalactites. Then, you can take the photographs and keep the memories in the paradise.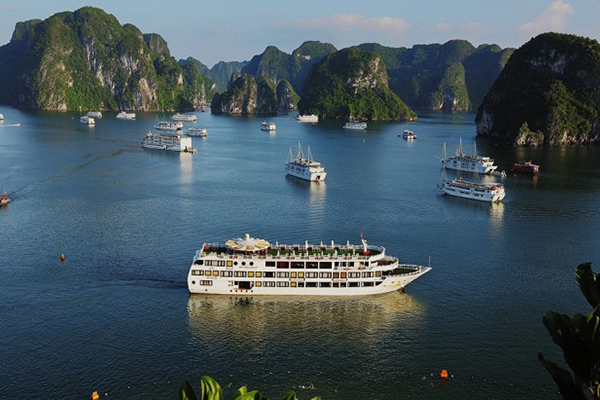 Besides, one of the Halong Bay attractions for foreigners is visited the floating village is an interesting feature of the daily life of local people. For a numerous families of the traditional fishing villages in Halong Bay, water world is their second hometown. These charming villages have been "warm" homes to many generations of fishermen in Halong Bay and their living from the diversified supply of the marine life. You have a chance to understand more about the real life of those fishermen on floating boats by chatting with them.
Especially, in the evening, you can join the group activities such as karaoke, cooking-class, chatting or join the personal activities such as squid fishing, watching movies.
Participate watersports
You are not only swimming and bathing like other beaches, having thousands of grottoes and limestone, Halong Bay offers countless places for tourists to enjoy swimming, sunbathing, snorkeling, fishing, or kayaking upon cruising around. You can kayak boat to explore freely the immense view of water and mountains under two easy and adventure methods of kayaking. After one-hour rowing freedom Kayak, you will visit the Titop island is one of the most famous islands in Halong Bay with the beautiful beach. A traveler can freely swim, conquer the summit and grace overview of Halong from above.
Discover Sun World Halong Park
You have just searched the name "Sun World Halong Park" on the internet, you will know the impressive of the largest tourist-recreational complex of Vietnam which also are Halong Bay attractions. Tourists can easily grace overview from above by the Queen Cable car system to get a perfect look of Hon Gai Port, Cai Lan port, Bai Chay Bridge and the entire of Halong Bay on the other side. Coming to the entertainment center, the young are playing adventurous games, adults can relax by going for a walk in Zen Garden. One of the highlights visitors must visit in Halong Bay Tour is the Sun's wax museum. Here, the visitor can take a photo with the idols and famous stars in the world.
Enjoy seafood in Halong+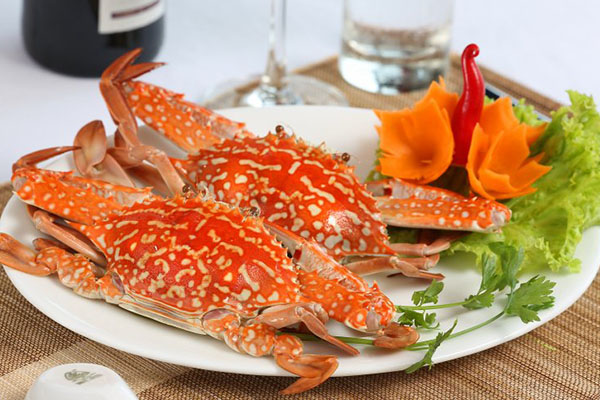 Sea snails: Halong has a variety of sea snails so that you shouldn't be missed because they are very delicious. They are hard for you to remember names such as Đĩa Snail (Plate), Hương Snail (Flavor), Gai Snail (Prickle), Vặn Snail (Twisted),…
Tu Hài: If you have once tried, make sure that you would remember forever the typical taste of this seafood. Tu Hài can be steamed, make salad, cooked soup, grilled….. The appetizer with steamed Tu Hài has cool and sweet taste and it can be said that this is the most delicious, nutritious dish.
Squid-sausages: The food is a fusion of hashed squid and mysterious spices. It makes the squid sausage more crunchy and charming. To many local people, a dish of streamed shrimps served with lemonade salt and a dish of freshly spicy vegetables, is an ideal meal for a joyful friendly union.
Ngán: You must be excited when served special liquor named is a species of Veneridae. This special drink is actually a mixture of traditional rice wine and "Ngán" blood, which is supposed to benefit men's sexual ability. You will enjoy the strange feeling as the wine which is processed by ¨Ngán¨ has its own scent from the sea.