Almost foreigners want to get the best feeling in the trip in Sapa so you also consider the best way to get to Sapa from Hanoi without the suitable tour. Sapa is a mysterious land with many spectacular sceneries and the culture of the ethnic groups. Thus, you will have the opportunity to admire the beauty of marvelous mountains, conquer the challenged Fansipan – the highest mountain peak in Vietnam, some ethnic villages to learn about the local life. To come to Sapa, you have 2 options such as by train or by sleeper bus.
The best way to get to Sapa from Hanoi is by train as it is more comfortable and safer than other means of transport. You must spend 8-9 hours on transferring to Lao Cai. Thus, you need to take another hour to get to Sapa from Lao Cai station.
There are many trains operating the route from Hanoi. Each of these companies run a carriage which is all attached to the national train carrier. You should book your ticket on Thursday and Friday because you can join in the weekend markets, for example, Bac Ha market which attracts many visitors.
* Train often departs at between 8:00 p.m and 10:00 p.m, and you can catch a good sleep before getting the beautiful mountain scenery at dawn.
* If you want to take day-train, there are some lines. You will admire the more beautiful view in a day but it takes more of your time to travel as it makes more stops.
* Ticket for night train is $35-180/person/way (the most expensive one is Victoria express which is exclusively for in-house guests)
* Ticket for day train is $10-20/person/way
Another best way to get to Sapa from Hanoi is by bus. The bus is considered more dangerous than moving by train but it is faster and cheaper. You will definitely feel uncomfortable when staying in a narrow unconcealed space for more than 6 hours. Paying 230,000 VND – 300,000 VND per trip and they also offer sleeper bus routes that can help you save time and hotel bill just like traveling by train. You can choose a sleeper bus or express Hanoi to Sapa. By sleeper bus, it takes you 8-9 hours to go directly to Sapa town.
The list of destinations in Sapa
Cat Cat village
Cat Cat is the old village of ethnic groups which located on a beautiful valley about three kilometers from Sapa Town. You will be interested in its distinctive customs in almost ethnic villages. Cat Cat village is within an easy walking distance from any hotel in downtown Sapa.
Tourists will admire the peacefully picturesque sceneries. Additionally, you can easily catch sight of women sitting in front of the loom with colorful pieces of brocade and children here are playing around with pets or even livestock. Women use the plain brocade and embroidery beautiful patterns of flower and animal on them. The original architect of H'Mong people is interesting as well. Their house contain three rooms with three doors and wood roof. Altar, kitchen, places for keeping food and sleeping are necessary for their house.
Ta Phin village
Located about 17 kilometers in the West of Sapa, Ta Phin is a village of Red Dao's people possessing a rich culture that has not been damaged by the modern life.
Red Dao's women are gathering together in order to keep inside their colorful reels of thread and cloths. Come to Ta Phin village, you have a chance to buy the goods made by themselves. Amazingly, most of them can speak quite well, some use Vietnamese less than English. Hence, you are easy to study how to make them. As a result, Ta Phin is known as the "brocade village", where provides the distinctively hand-made brocades. All of the products completely attract the eyes of tourists by numerous bright colors and patterns from bag, scarf, purse, to skirt, and coat. This village is the main supplier of brocades for shops in the tourism region, and the goods are exported to foreign countries.
Additionally, if you meet Red Dao's wedding, you participate in the event in order to see how carefully prepare and many complicated customs for this occasion. It is very interested in the several local festivals such as "dancing festival", "greeting for the new house", "oath-taking ceremony". Hence, you will understand more about the simple but happy and amiable life of ethnic people. Ta Phin Village is one of a number in the region. You can travel by motorbike or vehicle and really get to know the local people and their daily lives.  
Giang Ta Chai village
You continue passing a bamboo forest to Giang Ta Chai. This village is one of the best trekking in Sapa and is home to a Red Dao ethnic minority village. Giang Ta Chai is located in the opposite to Muong Hoa stream and was hidden by old trees and bamboo groves. Coming here, you may be free to discover the life of ethnic minorities; the spectacular natural scenery with the terraced rice fields. Next, you visit Sapa's ancient rock with diversity images including big shape and small shape. Approaching the life, you can know how they make their clothing. They buy the necessaries at a local market and weave and embroider the fabric themselves. Their many crafts, their embroidery is stunning. Where to go in Sapa can't miss a superb view of mountain and rice paddy fields on the other side of Muong Hoa Valley.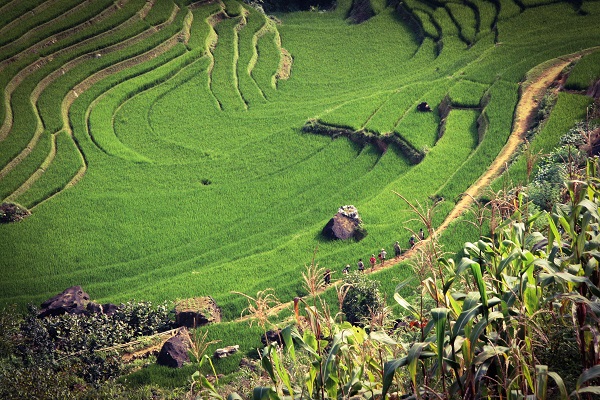 Muong Hoa Valley
Another destination in Sapa valley trekking is Muong Hoa Valley. This place is very famous for the breathtaking scenery and is the largest farmland for rice growing in SaPa. It is far from town about 14 kilometers. Muong Hoa valley is a place accumulating strange carved stones, along with the mountains. You will admire the rice fields of the ethnic minority people of H'Mong, Dao, and many others.
The stream flows down the Muong Hoa valley and passes to the Lao Chai, Ta Van, Hau Thao,… It is a place, along with the mountains is a strange carved stone. Muong Hoa has mysterious graphics by the diversify of 159 stones. However, the popularity of ancient stones with beautiful carving is located in Ban Pho. Especially, there have various of strange shape. Most scientists evaluated that it is the great heritage of mankind.
For long years from 2300 to 3000 years, people found many special points. For distance, the mysterious graphics of the Sapa's ancient stones can be of many ethnic groups living in different ages. They try to keep the historical things and take a primitive picture to express many different cultures. They can be either Dao or Mong.
While trekking to Muong Hoa valley, you have a chance to take photos and sight Sapa's views. This valley has terraced fields which is the most beautiful terraced fields of Sapa. Then passing the suspension bridge, you continue to discover the village of weaving and dyeing cloth of the Hmong. Finally, you can enjoy the breathtaking landscapes in the magnificent Muong Hoa valley and villages of the Black H'mong, Zay, and Red Zao.
Ham Rong mountain
See in the name of the mountain you can know the shape of the mountain like a dragon's head dimly looming in the thin veil of the early morning. Ham Rong Mountain is the fine combination of man-made and natural landscape which attracts tourist area in the center of Sapa town.
Ham Rong is famous for a lot of flowers and orchard gardens. On the paths, you will admire orchid gardens with more than 6000 orchid plants belonging to 194 kinds. You also like the most popular flowers such as Lily of the Nile, geraniums, daisy, cherry blossom and so on. Mountain fruits like peach, plum, and pear are also found here. One recommendation for you is to conquer San May – the peak of Ham Rong Mountain at the altitude of 1800 meters. Along the way to San May, tourists may drop by Heaven Gate 1 and Heaven Gate 2 for resting and photo taking. If you want to take the challenge, you should conquer the peak of Fansipan under a clear sky with white cloud floating around. To grace the blossom of flowers, you should visit Ham Rong in the spring.
Bac Ha market
Bac Ha market located in Bac Ha district, which is one of the largest markets in Lao Cai province. This market is organized every Sunday and it is famous for the originality and authenticity that the traders still preserve.
Bac Ha market is not simply a place for exchanging goods but also a chance for people from different ethnicities to come and meet. You also admire almost women demonstrate on their beautiful handmade traditional costumes and even for youngsters to find their dates. To approach the Sunday market, many ethnic vendors must walk long distance passing mountains and hills even so far.
The market is separated into many squares where trade a lot of products such as handicrafts, food, horse, poultry, and blacksmith. Moreover, you should enjoy the traditional foods in the ethnic groups. Each has its own trait and worth joining. You are free to take unique photos.
Until you actually go and see Sapa, you may not appreciate how really beautiful it is. A Hanoi travel agent will give you plenty of help and advice as well as making all the arrangements for your visit. Sapa may well be towards the start of your Vietnam tour if you begin by arriving at Hanoi International Airport. It will be an early glimpse of how beautiful the Country is, and when you return home later, Sapa is likely to remain long in the memory.