Sapa should be on the top of your list and depending on their trekking skills and ability, tourists can choose the most suitable trekking route. Sapa is known as the diversity of ethnic minorities and the breathtaking natural scenes. Thus, tourists will experience in the culture which makes for an unforgettable experience. Sapa is the best place to trek in Vietnam for 3 days or 2 days. But don't worry, this article offers some notes for Sapa hiking trail which make it much easier for you to decide.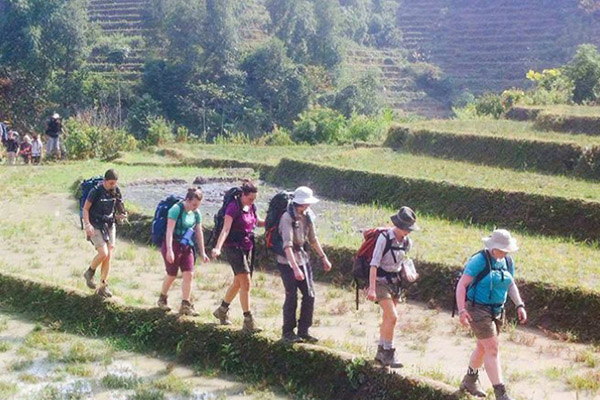 When to Trek in Sapa
Firstly, the weather is very important as it helps you make the decision. Before starting the plan, tourists should search for the forecast weather. Hopefully, it is necessary to have nice weather when you trek the routes. The road, the steep slope will be hidden by clouds so it is difficult to walk up. Travellers can visit Sapa around year, but the best time is from March to May and from September to November. It is dry and clean with sunshine from March to May, a very comfortable climate for traveling. However, someone who enjoys the terraces, let's come from September to November.
Tips for Trekking in Sapa by Yourself
Sapa is the best hiking with three levels from easy to hard. One recommendation for you is to trek farther from the town of Sapa.
You should go to the ethnic monitories to get a lot of questions regarding what to do about local women and children. This is a tough situation. They are friendly and nice people. You don't want to let them down, but if you decide to buy from them, you will have to buy from all of them. There is this one trick that sometimes works. Try to sell something of yours to them.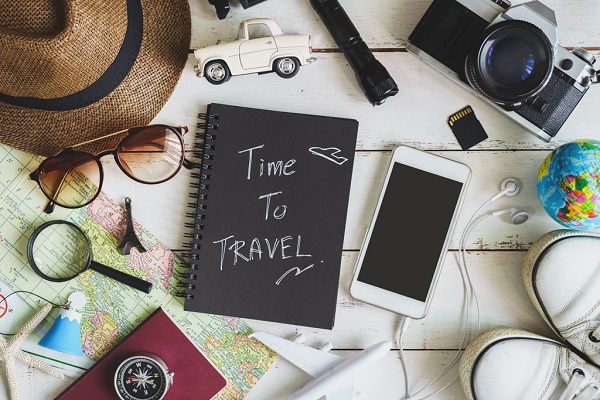 What to Pack when Trekking in Sapa:
Food and water. On the road, there aren't many stores. Thus, it ensures to have enough food and water because you should only rely on yourself.
On the path, you need to save the photograph so let's bring camera
If you want to experience in the tour, you should stay in a specific homestay. There is a possibility you can access the internet here. Other than that, you should be prepared for no signal. Make sure to load the map on your phone beforehand when you still have internet.
Sunscreen/ hat/ sunglasses. This depends on when you are trekking. If it is summer, it is necessary.
Warm clothes in the winter. Sometimes homestays have limited to no heating.
Lightweight rain jacket.
Bug spray.
Good hiking shoes.
Some routes in Sapa hiking trail
Cat Cat village
Cat Cat village is an ideal trekking route for someone who wants to take the challenging. Especially, it is an old village of Black H'mong people where you can discover many interesting facts about their culture and architecture. Cat Cat village is also the perfect place to see traditional clothing being made, hemp being dyed and women weaving colorful. In Shin Chai village, local people will spend the time to teach textile weaving and dying and they take the group on a locally built trail. Coming to Sin Chai you will have a chance to take pleasure flowers as peach blossom, plum blossom, gladiolus, pear blossom, rose, chrysanthemum.
Ta Phin Village
In Sapa hiking trail, tourists are easy to trek Ta Phin Village. You just need 30 minutes to get there from Sapa town. It is a home of Black Hmong and Red Dzao. Variable, as you could easily spend a whole day here. Most people take about 2 to 4 hours in total. It is easy to moderate in spots, especially in the caves. This mountain valley has an idyllic feel to it, but keep in mind that tending those rice paddies is backbreaking work barely sufficient to feed local families. Expect to spot some of the same foreign faces you have been seeing in the cafes and restaurants of Sapa.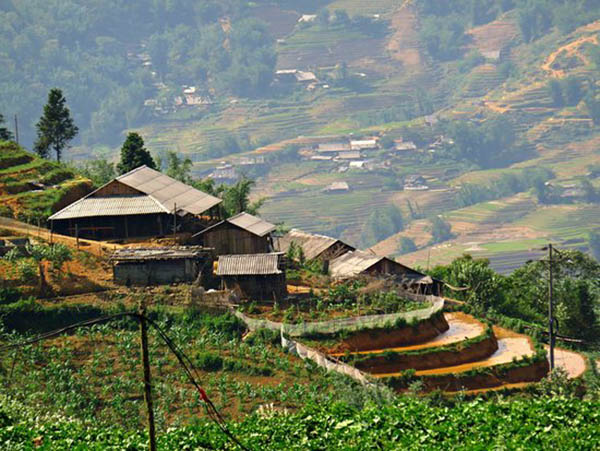 Giang Ta Chai village
Next, you will cross a gorgeous bamboo forest which belongs to Hoang Lien National Park to a picturesque waterfall in Giang Ta Chai village. Giang Ta was hidden by old trees and bamboo groves. In Sapa hiking trail, you can explore the life of ethnic minorities; admire the spectacular natural scenery with the terraced rice fields. You visit Sapa's ancient rock with many sizes– unique patterns of the ancients. Reach to the life of H'mong local people, you can know how to make their clothing. Their many crafts, their embroidery is stunning.
Muong Hoa Valley
Hiking through Muong Hoa Valley, you can catch up other tribal villages such as Ta Van Village and Ho Village. Muong Hoa valley is famous for lots of colorful flowers. The rice terraces are full of water which creates the best scenery like the reflection of the sunshine on the fields' surface. Silver fall is located about a half-hour from Sapa town that offers stunning views over surrounding mountains and lush forests belonging to Hoang Lien National Park. After that, you will start climbing uphill to a road.
Ham Rong mountain
Ham Rong botanical garden is the mainstream place for many foreigners, which is located not very far from the center of Sapa town. Ham Rong has many types of flowers and orchard gardens. Stones appear on the path, which leads tourists to the wild peach forest, then orchid gardens with more than 6000 orchid plants belonging to 194 kinds. There are a variety of flowers such as Lily, hydrangea, geraniums, daisy and cheery blossom. In there, you will find some fruits like peach, plum, and pear are also found here. The scenery was hidden in the fog and echo sound from the bamboo flute of Mong minority boy change this place into a heaven on the earth.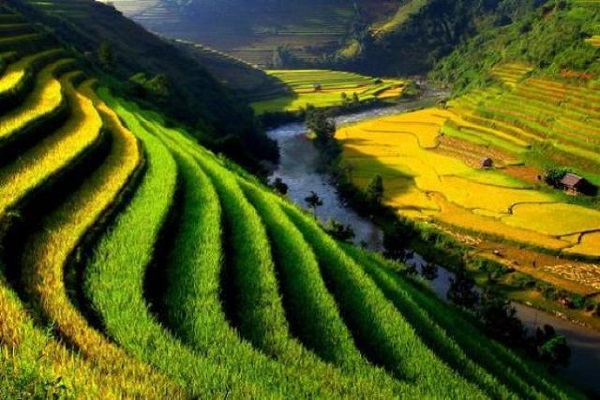 Sky Gate
Tram Ton is called the Sky Gate, it is located between the majestic Hoang Lien Son. And the portal is the apex of this pass. Standing in the port, you can take an overview of the green rice fields and the Silver Falls. Hence, you will feel the glorious and charming beauty of Sapa.