Are you seeking for the signature of French architecture and colorful hill tribal cultures in Northern Vietnam? You should visit – the most breathtaking hill stations. The distance between Hanoi and Sapa is only 315 kilometers, it's a time-consuming exercise whichever route you take, so choose carefully. There are two ways to get to Sapa from Hanoi: the railway and roadway. Sapa is home to stunning mountain landscapes, verdant rice terraces, unique stilt villages, and the Fansipan. Hanoi to Sapa Tour is one of the most unforgettable tours. In this article, we offer the most authentic and unique experience for readers.
Before, you can visit Vietnam's capital city is Hanoi which refined with French colonial architecture, scenic lakes and a bustling Old Quarter.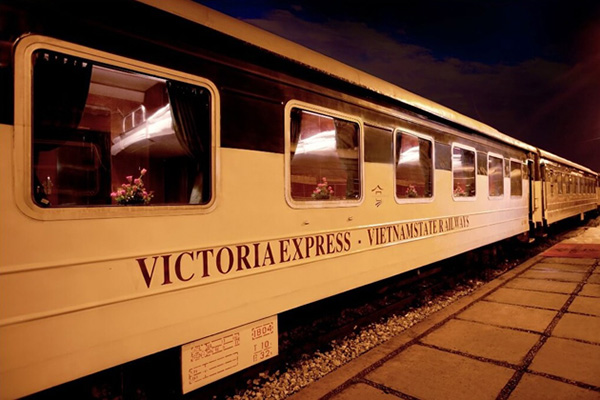 How to get Sapa from Hanoi
There are three main ways for tourists to reach Sapa from Hanoi such as by train, car, motorbike.
Firstly, it takes tourists around 8 hours to travel by train, visiting Sapa by bus or car might need only half of that time amount. The most popular kind to get Sapa is by train, you will have time to rest and recharge your battery before arriving Sapa. Actually, it is the most favorite choice of passengers when getting to this romantic Northern town in Vietnam. Hence, you will save energy for the trekking when you travel with kids. Especially, your children are exhausted after a long night on a train. And here are the most favorite luxurious train services voted by many passengers.
For example, Livitrans Train is a new train, namely Vietnam Railway Corporation, National Coal and Mineral Industry Corporation. It is recommended as one of the most comfortable trains from Hanoi to Sapa as it has one of the largest carriages. Passengers love the style of wood-paneled and sophisticating furniture of designed style. All cabins are available for passengers to make sure that their trips will be as convenient as possible. It offers a chance to enjoy tasty food under cozy and warm atmosphere.
Schedule:
Depart from Hanoi at 21:40 and arrive at Lao Cai station at 5:00 am
Depart from Laocai at 20:15 and arrive at Hanoi at 4:30 am
Another best train is Victoria Express Train service which is famous for the most luxurious and excellent trains from Hanoi to Sapa. The Victoria train carriages are a small version of Victoria hotel on land. These carriages are designed and decorated with high-quality furniture. Thus, it creates an amazing impression for visitors using this train service.
Otherwise, passengers are believed to enjoy their wonderful time as berth carriages are equipped with modern amenities to match the requirement of 4-stars hotel room. The train is built for a deluxe restaurant, serving many different sorts of delicious foods and beverage to adapt all demands from the customers.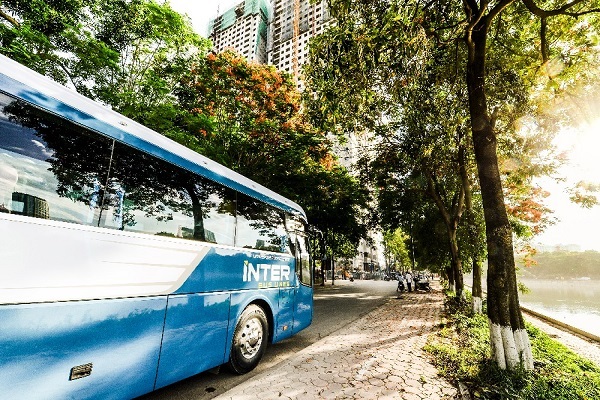 Secondly, travelers can reach by bus which is faster but it is less comfortable and less safe. They have just spend cheaper price the train. There are two options such as by sleeper bus or express bus. By sleeper bus, it takes you 8 hours to go directly to Sapa town. Or you can catch the bus at three bus stations such as My Dinh, Gia Lam, Yen Nghia and Nuoc Ngam with the bus named Hung Thanh, Hai Van or Ha Son. The price is around 250,000 – 350,000 VND. Maybe it takes about 6 hours to travel to Sapa from Hanoi which depends on the traffic. One recommendation for you is to book a bus at night in order to save time. By bus, you will enjoy the scene of the Vietnamese countryside along the road and it is by far the quickest and easiest way to travel between Hanoi and Sapa.

Thirdly, if traveling by motorbike, travelers can experience the adrenaline rush by riding through one of the most difficult and challenging roads. However, if you want to be free, this 4-wheel automobile is not the best choice. Especially those who travel with family having kids, motorbikes might not an ideal way.

What to Do in Sapa
The most prominent attraction in the area around Sapa is Fansipan, which is the highest mountain in Vietnam. It's only 19 km from town. This may seem like a short distance, but the trek is not easy; the rough terrain and unpredictable weather present some difficulties. Tourists have an experience climbing as the peak is accessible all year round. Your guide tour will share the climbing skills. Fan Si Pan can be found in Hoang Lien National Park, which is an attraction in itself. Nature lovers will truly appreciate this park.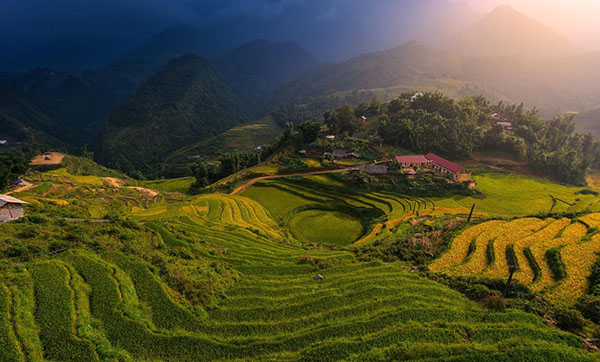 About 3 km from Sapa town, Cat Cat is an ancient village where the H'Mong ethnic minorities reside. The village is famous for many beautiful sceneries so you should trek to this village. Cat Cat village is situated on the picturesque Muong Hoa valley then you will admire a colorful trail with two sides of green rice fields and beautiful cornfields. The big waterfall on the stream near this village is also an ideal scenery for you to discover.
Cat Cat attracts tourists from all over the world for its distinctive customs and practices as visitors can have an opportunity to know its brocade weaving craft as well as its gold and silver jewelry making. The village provides some traditional souvenirs and handicrafts with special patterns embroidered by the ethnic people here.
One of the most attractive villages in Hanoi to Sapa tour is Y Linh Ho, visitors will be immersed in beautiful natural scenery, with green cornfields, endless lush terrace fields, rustic houses of H'Mong people,…You can also experience the traditional textile methods of local people. All these highlights create a colorful natural painting. In particular, the hospitality, honesty, and friendly of Y Linh Ho people are the most attractive, making most tourists who have come here also want to return.
Ta Van village is where the ethnic Giay settled. The road to Ta Van Giay village is small and narrow. Its two sides are the green color of the terraced paddy field. In the mist, there is a suspension bridge over Muong Hoa stream – the road to Ta Van Giay village with its two sides are the mop, reed, the rhododendron … swinging in the wind.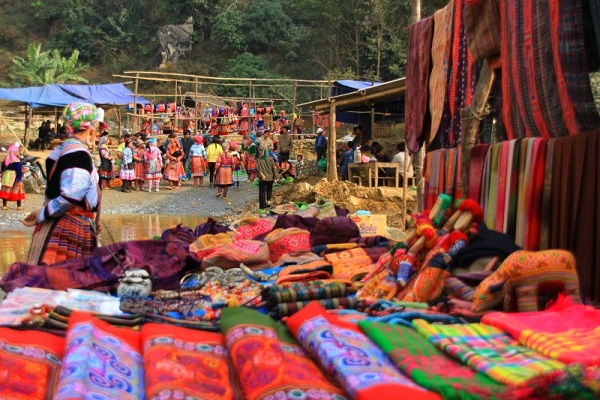 Bac Ha Market in Hanoi to Sapa tour is located in Bac Ha District, about 60 kilometers from the center of Lao Cai. It is one of the largest markets in this highland area which is only held every Sunday. Here, visitors can freely find out many brocade products. They will be impressed by the brilliant colors of different ethnic clothing, the hand-woven paintings with vivid motifs, harmonious and eye-catching colors. Next, you should not miss the area where sells vegetables and utensils. The colorful world of fresh red peppers, lush vegetable, yellow beeswax, dark black shovel…makes any tourists cannot leave their eyes. Besides, the area of cattle trade, especially horse selling area is truly funny. Lots of vendors and sellers come from remote villages, even people from Bac Giang province also come here to trade horses to the plains.