The previous article has introduced you many lakes in Hanoi, the capital of Vietnam. In this article, we would like to take you on a tour of other North Vietnam attractions, specifically in Hanoi, which is the old quarter.
This place should be on the top list of North Vietnam attractions. To know why we should first know about what it is.  The Old Quarter originally consisted of 36 streets. Each street represents a common item which was traded in the past. For example, Hang Vai used to be where people gathered to buy and sell fabric. Currently, just a few of them have still be used for the same purpose. Most of them have been converted to more modern usage. For example, while stores in Hang Ma (Hang means the product, Ma means paper) still sell paper items, others such as Hang Non (Non is Vietnamese traditional hat) is packed by many local boutiques. Therefore, it can be said that this part of the town contains the soul of Hanoi. You might be interested in some historical places, but they are the symbol of the past. These streets, the Old Quarter is a living existence, where the evolution of a country is totally presented, the ancient and modern, the past and the present, The West and the East, the old and the young. Hopefully, you might feel excited after getting off this imaginary tour bus.
1. The first attraction_Hang Ma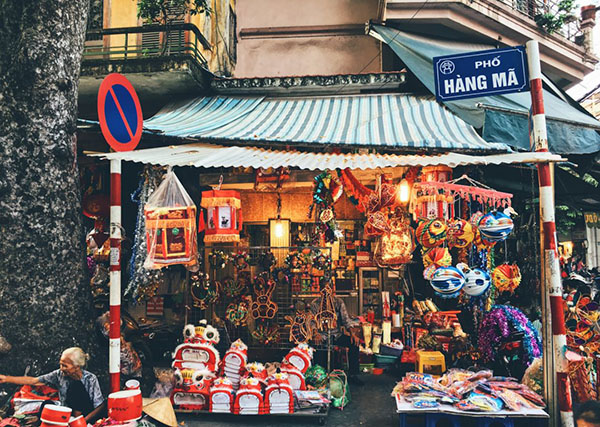 When talking about North Vietnam attractions, particularly in Hanoi, Vietnam; Hang Ma should be in the top ten list. As mentioned above, Hang Ma is the place where people buy paper products. Since the demand for this type is increasing, people living on trading this kind of goods can still make a fortune. The reason is simply that when living standard rises, people have more time and money to care about their mental lives. Previously, around four decades ago, my parents told me that they did not have enough food to fill in their stomachs; as a result, pen and paper at that time were luxurious items. By contrast, nowadays, when residents do not have to worry about their daily meals, mental health has been paid more attention. Adults take kids there to purchase the nicest notebook, lanterns or art, and craft stuff. The customers are getting more difficult, as they require a product which has not only good quality but also beautiful appearance. Taking me as an example, I especially feel more motivated to learn if I have an attractive notebook to write on.
On top of similar products which you have seen in your hometown like the pen, paper, cute things; Hang Ma also sells special religious items. If you come from East Asian countries like China, Japan or Korean, you might find this usual. Otherwise, many people might find this product quite strange and exciting. It is Joss paper or "gold paper" or "shade/dark money", also known as ghost money. They are sheets of paper and/or paper-crafts looking like money note, gold, or currently luxurious materials such as Hermes bags, BMW cars or iPhone X. They are made into burnt offerings. Vietnamese people believe that the dead will go into another world, which could be connected with our current world. By burning these things, our beloved people who are dead can have a prosperous life. For example, your grandfather who supposedly receives burnt paper iPhone X or BMW car can have iPhone X and BMW car in his current life. Traditionally, it is a nice custom, helping build a bond between people regardless of whether they are alive or not. This is also the way for offsprings to show their respect and gratitude to their ancestors.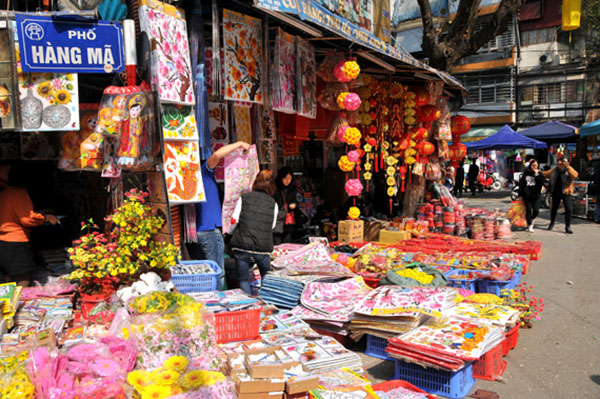 Hang Ma is also an attractive place in Tet holiday (Vietnamese Lunar New Year) or Mid-Autumn Festival. On those days, this street is very colorful. I and my friends always find this place having a special charm on these events. People are pouring there to enjoy the festive atmosphere. Not mentioning a varied range of products sold on the street, just the positive breathing is more than enough to get us there. Parents take their children to Hang Ma to buy them their favorite toys. Lovers take each other to Hang Ma to share romantic and lively moments. Friends meet each other in Hang Ma to take some memorable photos, to capture those vibrant threads of time. If many people, even the locals get there to celebrate their festival; you, an eager traveler, why not come here and enjoy your holidays with the highest notes.
2. The second attraction_The night market
When you have decided to visit Hanoi, Vietnam; it might be a big mistake if you cross "the night market" from your itinerary. It is one of the most popular North Vietnam attractions. You might think that the night market everywhere is similar to small street vendors, food kiosks and cheap products. However, affected by the local culture, each market will have its own features.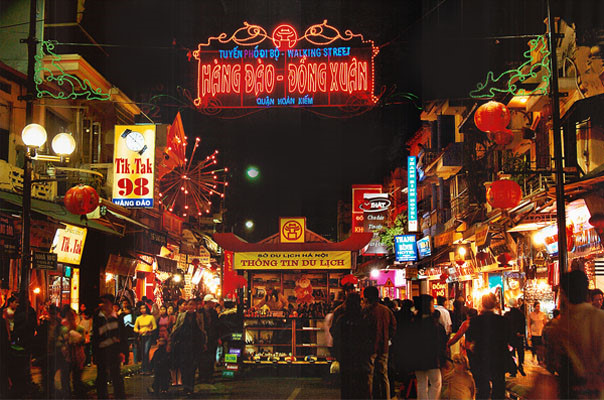 For example, you will find different kinds of street food in different markets. The one in Japan might sell takoyaki (fried octopus), korokke (a Japanese spin on a classic French dish) and shioyaki (baked fish served on a stick). The one in China might offer Chinese crepes (jianbing, jiaozi )– or Chinese dumplings (Cifantuan or ci fan) are rice balls filled with various flavorful local ingredients. The night market in Seoul, Korea might present Pajeon (Korean Pancake), kimchi (a fermented vegetable side dish ), gimbap (steamed rice with vegetables and/or various meats rolled up in seaweed), or sundea (Blood Sausage). Sound delicious, right? Now you might wonder what Hanoian market offers.
I am happily announcing that street food in Hanoi is also very tempting. As a matter of fact, Vietnamese food is one of the best and diverse cuisines in the world. Therefore, there is no way, in the capital of this city, you cannot find the one you would die for. Let me give you some suggestions. They could be Banh mi,  goi cuon, (light and fresh spring rolls ) banh xeo (a crispy crepe bulging with pork, shrimp and bean sprouts, plus the garnish of fresh herbs) or Xoi (Savory sticky rice). If you love fruit and juice, the night market is heaven too. When you walk down the street, you just need to grasp something to drink. It could be coconut juice, sugar cane juice and almost all kinds of smoothies. Sugar cane and coconut are the most favorite beverages, as they can suit almost all people, from the old to the young, from toddlers to teenagers, from lovers to family members. There is other Hanoi specialty, which is lime tea. The name tells it all. This drink is made of lime and tea. In Vietnam, lime is more popular than lemon. In fact, 90% of people use lime in their daily meal, not lemon; just because in this S-shaped country, lime is grown more easily than its counterpart. You can try this kind of drink as well, as it is quite drinkable and nutritious too. The benefits of tea and lime are well known without saying. I think you can make it at home as well, easy done, easy go.
Besides food, the Night Market is an attractive destination because of its various products. There are many traditional art and craft items there. Most of them are handmade by local people, so it is definitely a good place for you to take some souvenirs for your beloved friends and family members. One tip for you is to go with a local, as he or she can help you negotiate. In case that you go alone, remember to reduce the price by at least two fifth the one they tell you. Please do not misunderstand that they rip you off. Even the locals go there, sellers also tell the same prices they tell you. It is just the habit that people play bargain game when buying something. When you master at this skill, it might be addicting and quite fun as well.
The upcoming articles about North Vietnam attractions will be coming soon, and hopefully, this series can provide you with some interesting information. Anyway, hope you and your beloved people have a great time ahead.