Does your couple have a plan come to Central Vietnam to get the romantic trip in the next time? If you do not have time to read every single piece of information about Vietnam, this is a good article to start. The itinerary is accumulated in our traveling experiences as well as on their popular from the past of tourists. Let's read our guidelines carefully and select the one if it is suitable for your time to own the romantic Central Vietnam travel itinerary in 4 days.
On the first day
When you come to Hue, let's check in the luxury hotel and spend a full day visiting the Citadel and the Imperial City. You have two options either walking or riding a bicycle around. All the typically traditional Eastern architectures including majestic palaces, tombs and museums stand accordingly together to make an utmost amusing attraction right in the heart of Vietnam. In the afternoon, you can take a taxi to visit the further attractions such as Royal Tombs or various pagodas such as Thien Mu and Thiet Lam. The pagoda is the perfect combination of artificial architectural work and picturesque nature. Moreover, the tombs of the Nguyen Kings are the great achievements of the landscape architecture. It is considered that tombs will be the heaven for its owner for the afterlife so each tomb is based on the personality of the owner.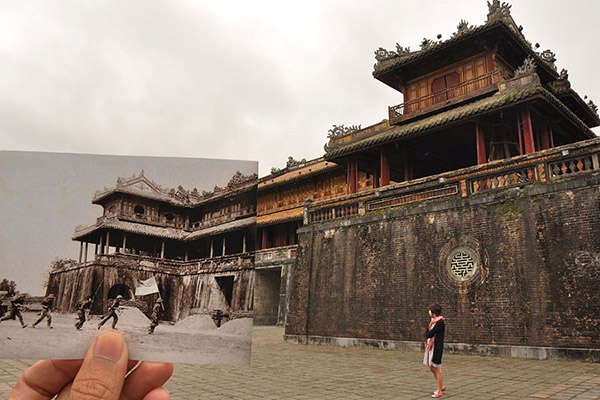 In the evening: You will impress yourself by joining one of the boat trips along Perfume River, savoring Hue Royal specialty, and music.
Notes for food in Hue: Bun Bo Hue, Com Hen, Banh Beo, Banh Khoai, Mam Tom Chua,…
 On the second day
Transfer to Hoian on Hai Van tunnel that connects Hue to Hoi An is one of its kind in Southeast Asia. On the road, you should visit Lang Co beach – a charming beach with soft white sand stretches of swaying palms. After gracing the great reputation for a fantastic beach experience in Hue, Lang Co still remains surprisingly peaceful and unspoiled.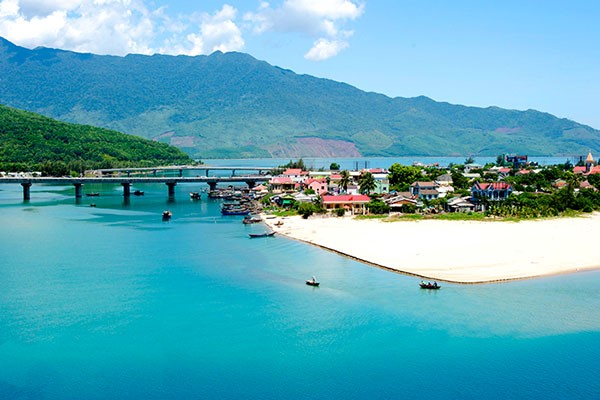 After that, when you arrive in Hoian in the Vietnam travel itinerary, one suggestion for you is to overnight in homestays to get the experience of local life. The foreign culture and the traditional culture from the Indianized Kingdom Champa (which covered much of the current central Vietnam) makes Hoian more charming and attractive. Instead of the imposing building, a series of old architecture lanes and houses is a perfect idea. And then you spend your afternoon touring ancient town, helping yourself with some tailored-to-your-size clothes and shoes
In the evening, Hoian is very impressive with the town interesting lines of lamp. during night time, most old houses are gorgeously turned on with hundreds of colorful lanterns and you could witness a lot of floating candles on the river. Here, you will see many handmade products which are made from metal, wood, and so on. This market attracts a large number of female tourists as here they could buy necklaces, earrings, bracelets, etc. Hoian, on the other hand, also offers you a wide range of bars and clubs.
Notes for foods in Hoian: Chicken rice, Cao Lau, Banh Bao, Hoian pizza, Hoian bread,…
On the third day
You should book a tour to My Son Sanctuary, which is one of the most sacred places in Vietnam. As a result, your tour guide will talk to you the historical stories of My Son Sanctuary. Actually, My Son is one of the most stunning sights to see in Hoian, Vietnam's most important site of the ancient kingdom of Champa. Recognized as a Cultural Heritage site by UNESCO in 1999, My Son is an attractive destination for both of domestic and international tourists to visit and learn about the culture and historical of Champa Ancient Kingdom. It comprises many Champa temples surrounded by two mountain ranges, which was also a burial place of Champa royals and national heroes. The My Son temple complex is the foremost heritage site of this nature in Vietnam. Though it has been destroyed over time, you still see many majestic ancient ruins of temples in the area.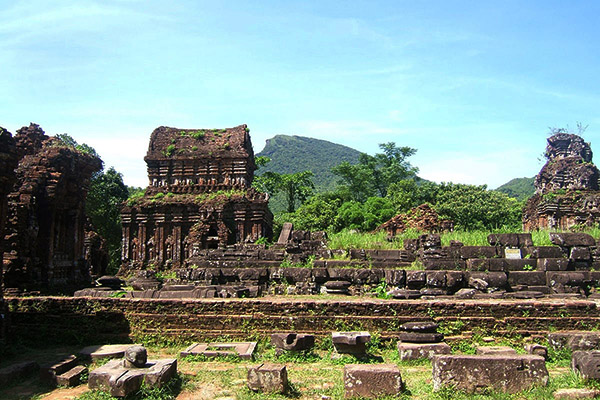 Continue the Vietnam travel itinerary, you go to Cua Dai beach for some sun and sand. Just spend hours lying on the sand beach, listening to the sea breeze and the sound of waves or playing the favorite sports, creating a private space by drawing in the sand, building sand towers. There will also be time for seafood specialties in an ideal environment of immense sky and sunshine.
Finally, you will come back to Danang city to move to another place.
On the fourth day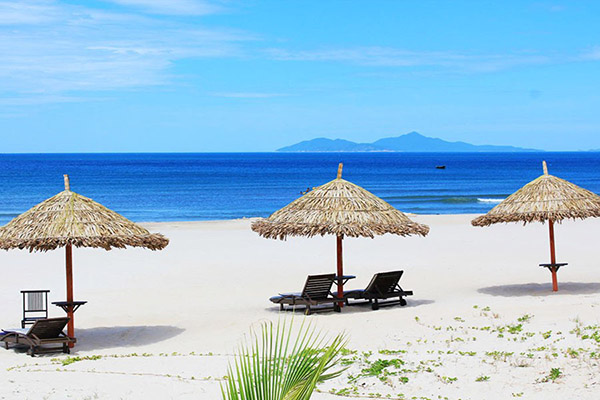 Danang is one of the cultural and educational centers of Vietnam, and it is also one of the biggest cities in Vietnam. Coming to Danang, you shouldn't miss My Khe beach was continuously listed in Top Ten of Asia's best beaches. My Khe beach lies on the ideal position closed to the city with beautiful space and landscape and diversified tourism services. Visiting My Khe, you can be content with green and windy space, see sunset and down sightseeing on the beach. My Khe beach with white and gently sloped sand beach, blue water is the best place for bathing and relaxing. This beach has kinds of precious seaweeds with high-value economy such as gracilaria verrucosa and gracilaria. Visiting here, you must try to taste fresh and delicious seafood such as lobsters, sea-crabs, sea fish, cuttle-fish… at restaurants lying on seaside resorts. It will be an interesting experience. Actually, My Khe is an ideal place for swimming or takes place the water sports like diving, water-skiing, diving, and race activities.
Notes for food in Danang: Mi Quang, Bun Thit Nuong, Bun Cha, Desserts, …