Sapa is one of the most attractive destinations in Vietnam as its beautiful landscapes, adventures, and cultures. Coming here, almost tourists have a question where they should overnight. Currently, a popular form of accommodation in some places in northern Vietnam is homestay. Actually, homestays are an opportunity to get experience as you stay with a local family. They are an affordable accommodation alternative ideal for anyone seeking an authentic travel experience. In this article, Travel Sense Asia offers several tips to choose the best homestay in Sapa
A lot of people from the ethnic minorities in the villages in northern Vietnam provides homestay in tourism but also in non-tourism areas. These people are usually not certified guides or employees of travel agencies. It is important that they know very well the place where they live and show you the right places and village life. Some of them have the basic knowledge of English, others speak English very well. They learn English from the tourists who visit them. Communication is usually not a problem. If there is a communication problem, use your hands, or feet, you can also use Google translator.
What types of homestay in Sapa?
The price of local homestay is quite cheaper than others. Especially, one suggestion for you is to eat with the host to enjoy the traditional foods. There are two types of popular homestay in Sapa such as homestays in tourism and real homestay. We will give you the detailed characteristics each of kinds to you make the decisions.
Homestay in Tourism
Some homestays in tourism called guest house style homestays, which are larger and more modern than real types. Of course, these homestays are built from wood or brick. There are more convenient for people because of no separate bedrooms or en suite bathrooms with standing shower, hairdryer and free toiletries. In case, several rooms with cheaper price maybe share one clean toilet. However, the bathrooms respond enough the conditions like a couple of western style toilets and warm showers. Different with the real homestay, luxury homestays are equipped with the modern facilities such as Wi-Fi Internet, cable TV, electricity. All rooms are very clean and comfortable for tenants.
Don't worry about the quality of foods and drinks in luxury homestays because they are very delicious. All dishes are decorated more attractively to stimulate the appetite of gourmets. You completely request the menu for house owners. There are facilities to buy soft drinks, beers or water at an additional cost. All passengers will concentrate on the living room to enjoy the meal. Therefore, you can build the relationship with people living in there and share the experience to get an awesome trip. Moreover, in homestays, you can live in the safe environment to avoid the fraud. Finally, the disadvantage of guest house style homestays compared to popular homestays is price both of the room and food.
Price per night: VND150.000- 350.000/ person
Highly recommendations for you want to stay at luxury homes such as Heavenly homestay at No.07 ta Phin, Stone Garden Homestay in 04 team, Ta Phin village; Sapa volunteer Homestay in Ta Van Day Iron bridge, Ta Van village.
Real Homestay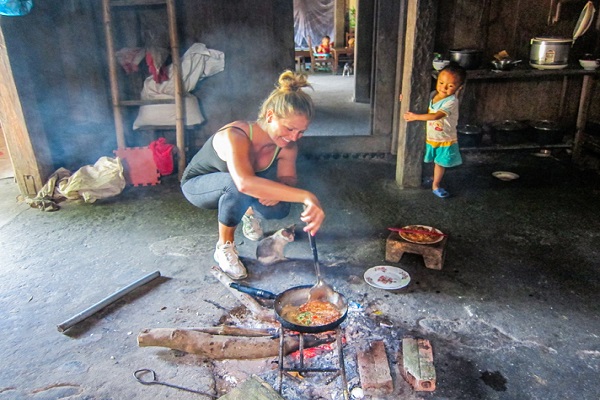 The real homestays called traditional homestays which are homestays of local people and close the local living. Different with almost homestays in the tourism area, when you come to Sapa you can ask the local people to overnight during the trip so don't need to book before. You will have many options to overnight because, in the areas surrounding Sapa's center districts, there are several ethnic minorities. These homes also come equipped with a sleeping area but bathroom and toilet facilities vary which is shared by many people. In fact, some Sapa Vietnam Homestays have no toilets what so ever, whilst others have long drop latrines. Therefore, living in traditional homestays, you will get less convenient and less secure than another.
In real homestays, many travelers appreciate this regional activity since it is the chance for them to get actual experience of local life, traditions, and lifestyles. The local hosts are so friendly and generous to show you their normal life by letting them join the daily works as well as serving some very delicious local dishes. For instance, you can cook and eat with your family host and generally enjoy the hospitality of Sapa's local people. As a result, you will enjoy more the traditional foods and drinks like a wine of ethnic group. Moreover, overnight at the real homestay, you will be shared the role of your trekking experience that they will share for your needs of multi-day trekking plan to fully discover the beauty of the mountains and color of valleys in Sapa. To sum up, the expenditure of that accommodation during the journey is very cheap.
There are so many the real homestay both of King and ethnic groups.
Price per night: VND 100.000 – 150.000/person
How you can find the best homestay?
You completely book the room before coming to Sapa with the luxury homestay. However, if you want to overnight in the real homestay, let's ask people from ethnic minorities. They answer YES or NO, this is simple. Some ethnic people speak English, but not everybody (learn a few basic words in Vietnamese). Note several villages if you discover deeply, you can choose the homestay in these villages:
Lao Chai
Lao Chai is a Hmong village in a descending valley Southwest of Sapa. It is accessed easily by a number of trekking routes, this hill tribe village can be reached by the average trekker. A lot of tourists have a plan to trek this village and tour guides are from Lao Chai village and many are homestay owners as well.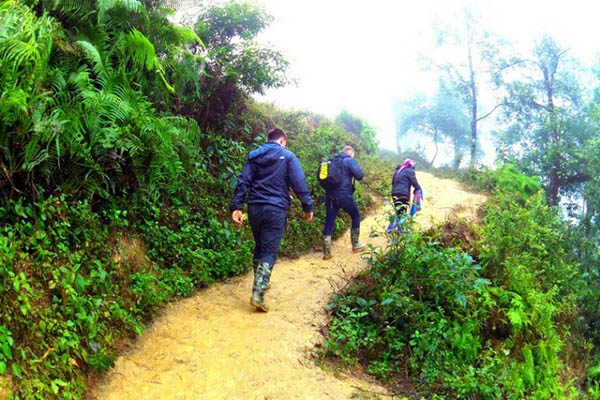 Ta Phin
There is a small commune of Black Hmong and a Red Dao village on the west side of the valley who have lived in this area for four hundred years. They have sculpted the terraced landscapes and created irrigation routes for agriculture. Next, they have planted the corn and forged the web of paths that get you to and from their homes and fields.
Ta Van
Ta Van is a quiet village of many ethnic minorities like Dao, Hmong and Giay. Therefore, the growth of the tourism industry has brought many changes to this village. Tourism now plays an integral yet somewhat boisterous role in the community. Currently, there are rapid changes taking place, affecting the urban layout, houses, people, and culture. The local people have experienced the direct effects of this significant economic generator and have successfully built up capacity to manage this growth.
Giang Ta Chai
Giang Ta Chai is a popular meeting point for half-day trekkers that sits at the base of a large waterfall. This village is a stunning destination that is a trickle compared to the thundering water flow during a rainy season.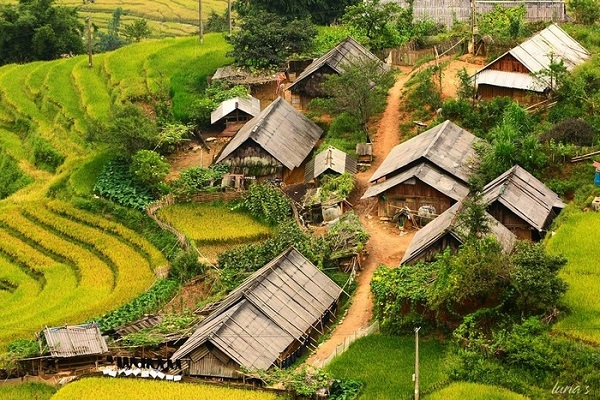 Ban Ho
Ban Ho village is about 20 kilometers from Sapa town where is home to the Tay ethnic. The form of tourism that allows visitors to rent rooms from local families is one of the things that make the attractiveness of Den village.
Homestay is a great experience
When you travel to Sapa, homestay is a great choice because of its experience. Firstly, ethnic people will be pleased to prepare their typical dishes. For dinner with the whole family we eat what was left from lunch, food is almost similar. Secondly, everyone in the family can talk and discuss the experiences of the day. They show tourists some photos of other travelers from around the world who visited them. And some pictures of the family circles, photos are really interesting. This evening ends slowly and we drink a rice wine, they drink the rice wine almost every day. The hosts are very friendly; they share the stories in the diary life. Especially, you saw how people live in absolute poverty without a large income. You know that the life of these people is difficult, it seems to you that they are satisfied with this. But the optimism and smile of local people in Vietnam, which you felt and saw there among the people was really magical.
Finally, it ensures that homestay is the best option for someone who wants to gain more experience in this destination. Several main tips will help you can choose the best homestay in Sapa. As a result, you will get the best trip as its stunning destinations, cultures, adventures and so on.