In the early morning, streets in Sapa downtown are filled with hundreds of Hmong and Red Dao people in colorful ethnic attire heading to Sapa market. Almost day of the week, somewhere around Sapa the local hill tribes will be organized weekly market. As well as providing the opportunity to buy and sell the local goods, these are also important social occasions. In the article, we offer the useful information in Sapa market before you go.
How to get there?
There are two main ways to get Sapa from Hanoi such as train and bus. It only takes tourists staying in Sapa town few walking minutes to get Sapa market, which is located right in the heart of the town, nearby Sapa church. However, with others market, you should move by the motorbike and car.
When are Sapa markets meeting?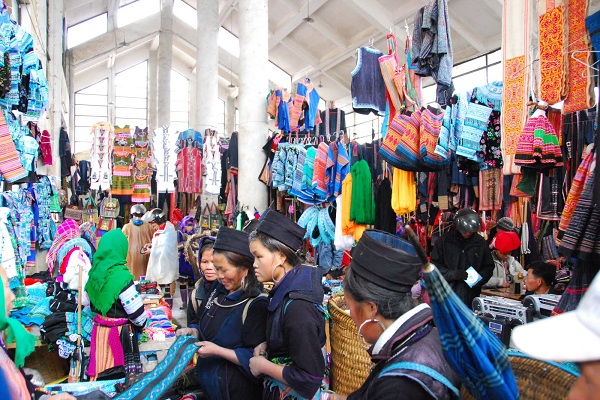 Tuesday: Coc Ly market is a market of the ethnic groups, who are living in the Northwest of Bac Ha District, Lao Cai Province. It is only organized on Tuesday in the week. This market is usually located near the viaducts passing through Chay River. You will enjoy the peaceful life of 6 different minority peoples (Flower H'mong, Black Dzao, Tay, Dzay, Ha Nhi and Nung). Coming here, you will have an opportunity to meet and share joy and sorrows after the crops, to exchange one another's experience. Coc Ly market is also divided into many separate areas. Especially, you should buy several products and goods, which are mainly specialties of the forest such as vegetables, herbs, Shiitake, Cloud ear fungus, honey, rice, utensils, necklace, ring, clothes and brocade products. All of them are displayed on the nylon canvas, which is placed on the ground.
Wednesday: Cao Son market is situated in Cao Son ward, Muong Khuong District, which is about 80 kilometers from Lao Cai City. On coming to this market in every Wednesday, you are offered the opportunity to enjoy the cultural combination of ethnic groups near Chay River. You will find Flower Hmong (Red Hmong), Black Dao and Phu La in the business. Those ethnic groups majorly live in the four biggest villages of Muong Khuong District. They usually go in groups, in pairs and sometimes, go alone. Some people wear the "gui" (a large basket) on their back, some use the horse to carry the goods while some go to Cao Son Market by motorbikes or bicycles.
Next, you come to Muong Khuong district which weaves its way up and down hills of the tea plantation and pine trees. It gets wilder and greener with thick forest and small tribal villages scattering isolated on slopes of the mountains as you get close to Cao Son Commune. You will enjoy the activities of this weekly market. The shining dress of colorful H'mong girls attracts you much as you fall down to a new world , a world of interest and fun.
Thursday: Lung Khau Nhin market is another of the most traditional in this area, and a variety of minority tribes people gather to sell their wares. Expect to meet the friendly and hospitable Tai Lu, Tai Laos, White Tai, and H'mong amongst others. Finishing the activity in this market, you will have the chance to visit the Black Dao village of Sin Lung Chai.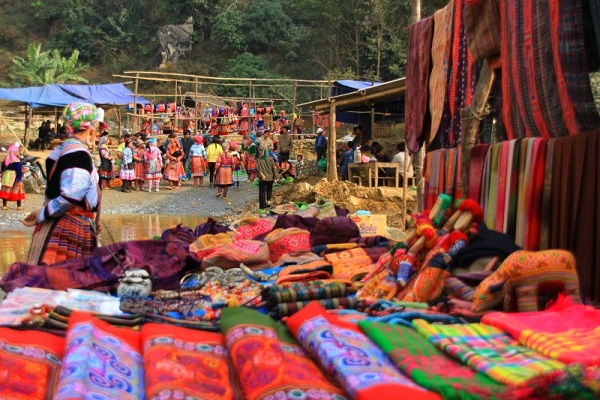 Saturday: Can Cau market is located in Can Cau Ward, Si Ma Cai District and below the Chinese border. Can Cau is a busy market which is held every Saturday. It is a colourful and vibrant market where you will encounter minority groups such as the Flower Hmong (Red Hmong), Nung, Phu La and Chinese people from across the border. This market is usually held along the streets, right under the spectacular rice terrace. Can Cau Market is divided into separate areas. Not only that, you will be provided by a wide range of products such as vegetables, herbs, spices, utensils, and brocade products. Besides, there are also many food stalls serving traditional dishes, which also attract a lot of locals and tourists
Sapa Love market
Sapa's Love market is the most attractive destination for tourists, which is hold on the evening in every saturday in the week. It has been unique and valuable aspect of the culture of the Mong and Dao ethnic groups for a long time. Love Market is an ideal place of local teenagers coming from the surrounding minority villages to join together. They gather to sing, charm, and find love. The Love Market has been kept on the long time, but modern life has made the market seem to lose its tradition.
Sunday: Bac Ha market is located in Bac Ha District, Lao Cai Province, which is 70 kilometers from Sapa town. Bac Ha Market is the biggest minority peoples market in Northwest Vietnam, which holds in every Sunday. This market is famous for the bright colours and costumes of the local people where Flower Hmong (Red Hmong), Black Dao, Tay, Nung, La Chi, Phu La and other minority groups who come from far and wide come to buy and sell a wide variety of goods and livestock, to exchange news and to renew friendships. Maybe you don't know that the market was a center for trading horses but now motorbikes have replaced them it is more common to see buffalo, cows, goats, fish and other livestock being traded.
Muong Hum which is one of the most famous Sapa market and is a favorite destination for those who travel to Sapa. Muong Hum Market is located in Bat Xat District, which holds on Sunday every week. On Sunday, the market is like Bac Ha market as busy and excited as a large party of Ha Nhi, H'Mong, Giay, Dao Do and Dao Tuyen people. Because this market is located in a small valley with a lovely and gentle stream passing through, the scenery here is very spectacular and picturesque. You can easily grace the activities of local people passing the viaducts endlessly in colorful and unique clothes of their community. This image is so lovely that you may want to take a beautiful photo immediately. The girls and the kids wear the most beautiful clothes, which not only impress the boys but the tourists as well.
What do they have?
The market consists of both indoors and outdoors space. While stalls along the stone stairs outside sell flowers, fresh produce, groceries and food; little workshops on the second floor offer ethnic fabrics. After getting the gate, you will see stalls full of mountain fruits like peach, apricot, pear and plum. At that time, you can buy some fruits for the dinner dessert or enjoy during the trip is a good idea. Dropping by the right hand side stalls, tourists will find trinkets (ethnic silver jewelry), medical herbs and local products that are good for health like forest honey, notosingeng and ganoderma.
For the ones who are enchanted by colorful costume of H'Mong, Dao people in Sapa, and looking for authentic ethnic fabric, the second floor of Sapa market is a must-visit. Here, one can find a number of embroidered skirts, handbags, blankets, pillow shams and table covers with unique patterns, made by the indigenous. Ethnic women who sell brocades here can converse quite well in English.
List of the traditional foods in Sapa market

Visiting Sapa market in the morning, travelers will see a lot of local people gather at food stalls to enjoy favorite breakfast of "mèn mén" (steamed corn wheat), "thắng cố" (horse soup) and corn wine. Xoi Bay Mau is a traditional food of Nung people which you must try one time. The seven colors include pink, light red, dark red, indigo, yellow-green, green and yellow. Com Lam is a famous rice dish of the ethnic minority people in the Northwest of Vietnam cooked by sticky rice and grilled in the bamboo tubes. These are traditional food of local people in Sapa, and must-try when coming here.