Have no idea for travel to Sapa from Hanoi? Situated in the most remote mountain areas of Northwest Vietnam, 350 kilometers away from Hanoi, Sapa has long been a stunning and charming tourist destination, thanks to its cool fresh air, special stilt villages, as well as picturesque sceneries filled with rugged rice terraces, steep valleys, lush vegetation, impressive mountain peaks and passes. Furthermore, the land is also reputable for its local hill-tribe ethnicities and unique cultural diversity. Above all, visitors are quite able to enjoy Sapa at its best all the year round with many different tastes of seasons and interesting outdoors.
In general, a perfect itinerary of a trip from Hanoi city to Sapa is usually within 4 nights 5 days or longer if you're fond of contemplating the rice terraces and enjoying the pleasant atmosphere of the northern authentic town. The following are what you should not overlook during travel to Sapa from Hanoi!
How to gain a memorable arrival in Hanoi?
Hanoi gains fame as a capital of Vietnam. This is the second biggest city in the country after Ho Chi Minh City. Generally, it often features a harmonious mixture of Eastern and Western culture. You're able to find it through a number of architectural structures in the city. Moreover, Hanoi is also the most significant center in regard to the political role. Although the place was heavily devastated by the war, it has already rebuilt itself as well as turned into one of booming nations in Southeast Asia. Along with beautiful, some people like using "interesting, historical and traditional" to describe Hanoi. Here are interesting activities you should partake in after checking in the city.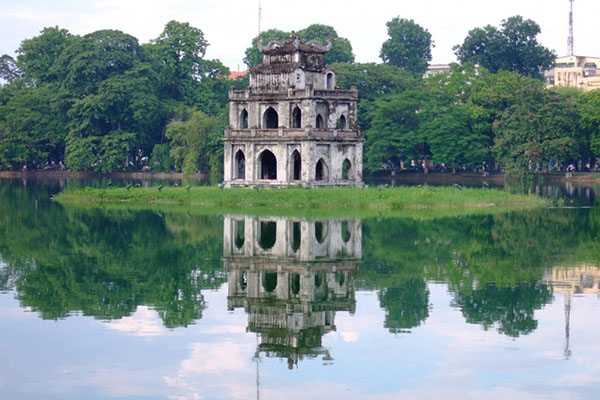 1. Walk around the Museum of Ethnology
The museum catches your interest by the huge collections of objects and items relating to 54 different ethnic groups in Vietnam. Besides, many different ritual and cultural practices are also found in there. You will have a chance to witness many artifacts and relics of ethnic groups through the open-air exhibitions inside.
2. Visit Hoan Kiem Lake and Temple of Jade Mountain (Ngọc Sơn Temple)
Hoan Kiem Lake has long become an indispensable symbol of Hanoi. A visit to the capital is incomplete without checking in the lake. It mainly reminds Vietnamese about the history that Emperor Le Loi returned the powerful sword to a giant turtle there. And the name Hoan Kiem (meaning "restored sword") has been considered the result of this action.
Heading toward the north corner of the Lake, and you will find the foot-bridge that leads to Temple of Jade Mountain. From a distance, it looks ancient, prominent, impressive, and religious with Confucianism ornamentation. Every day, visitors come to this peaceful temple to admire its antique architecture and find peace of mind.
3. Watch one amazing Water Puppet Show
Having its appearance in the Red River Delta during the 11th century, the art of water puppetry becomes an integral part of the locals' lives. The show is basically performed in a waist-deep pool where the puppeteers hide behind the stage and then skillfully control the puppets by using the large rod under the water. Enjoying this art is truly meaningful enough to make the travel to Sapa from Hanoi more exciting and unforgettable than ever. With the affordable ticket, every tourist is able to watch the night performance of water puppetry any time for fun.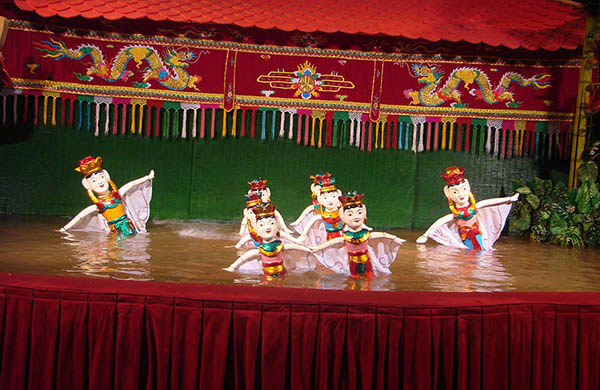 What are must-do activities in Ninh Binh?
At present, Ninh Binh is considered one of the most wonderful tourist attractions in the North of the country. Just about 100 kilometers away from Hanoi, the province is perfect for one-day tour packages. What leaves a strong impression on tourists are the natural gifts as well as man-made creativity there. For some people, Ninh Binh has been also famous as the "second Halong Bay on lan," due to its imposing view along the river and lots of the magnificent caves. Keep reading to know what to do after coming to the province.
1. Check-in Hoa Lu – the capital of Dai Co Viet (an old name of Vietnam)
As Vietnam's first imperial capital city in the past, Hoa Lu steals visitors' heart by the high limestone mountains which are believed to protect the royal city from invasion. Setting foot inside the complex, you will instantly witness an iconic archway in the entrance, in addition to several gorgeous temples. Among them, the temple of King Dinh Tien Hoang stands out from the rest, thanks to its special architecture and folk sculptures!
2. Admire the beauty of Trang An Grottoes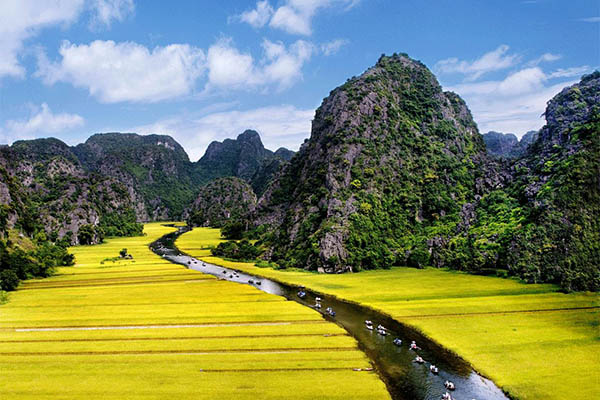 Another reputable attraction for those who are looking for a trip to stay close to nature at best in Ninh Binh is the complex of Trang An Grottoes. With an area of 1,500 hectares, it is actually a series of caves and rocks which tower out from a network of canals and lakes. To be sure, many of these caves are submerged that should be discovered by a boat trip from an organized tour, while others may be accessed on foot. These caves are as beautiful as the ones in Ha Long Bay but less crowded. That's why lots of the tourists choose the complex as a perfect zone to feast their eyes and enhance their knowledge.
What to do to make travel to Sapa from Hanoi more memorable?
If you don't have enough time to make a circuit around the northwest highlands, then a trip to Hanoi – Ninh Binh – Sapa is just meaningful enough to contemplate the imposing scenery and understand the local lives. The best time to check in Sapa is between March and May as well as between September and mid-December. To make the most of your travel, the following are some useful recommendations about what top experiences you should engage in:
1. Go trekking and enjoy homestay in minority villages
Sapa is described as a colorful town, due to the presence of the Red Dao and Black Hmong minorities from the local hill tribes. These people tend to head to the town's market to trade their produce day after day. They sell handicrafts and clothing that tourists can buy as souvenirs for their beloved. If you wish to discover those ethnic groups' live, then going trekking through the minority villages is highly suggested. Along the route, the eye-catching rice terraces and beautiful scenery also abounds on all treks in the area. Some of the most popular villages for hiking include Ta Phin, Cat Cat, and Ta Van. Generally, Ta Phin and Ta Van villages satisfy your vision with awesome landscape sights, while Cat Cat village wins an award for the outdoor museum of local ethnic communities.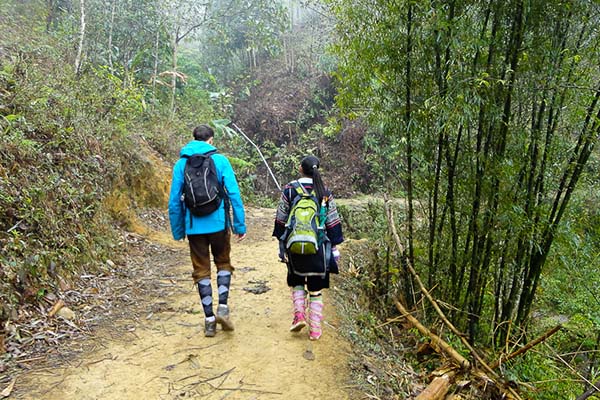 Of course, overnight stays in these villages are also popular options. It is a cool opportunity to meet locals and has friendly conversations with them so that you may understand more their culture, customs, and traditions.
2. Spread your eyes over the grandness of stunning waterfalls
There are 3 of the most famous waterfalls in different areas of Sapa, namely Silver Waterfall (Thac Bac), Love Waterfall (Thac Tinh Yeu) and Coc San Waterfall. Among them, Silver Waterfall is frequented by both trekkers and travelers. Breathing in the mountain air, going ahead of the winding roads, as well as listing the soothing songs from birds are what you can experience during the way to the waterfall. Don't mind soaking in the cool stream, having all of your worries relieved, and unwind under the shade of green trees after visiting Silver waterfall.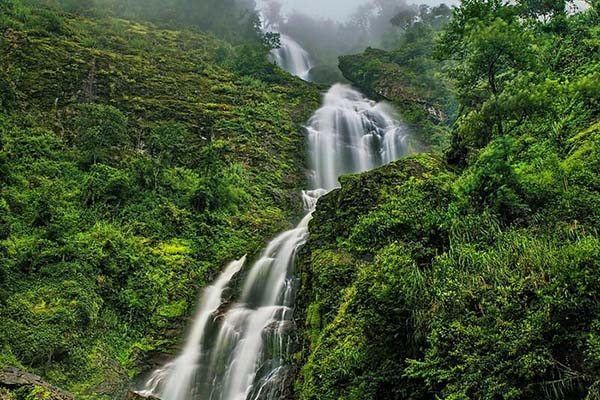 3. Get a panoramic view of Sapa from Heaven Gate
Driving to Tram Ton Pass is also another activity you should not ignore. At about 2000 meters above sea level, it is the highest road in Vietnam. And the top of the road is the existence of the Heaven Gate. The path the Heaven Gate is usually meandering around the mountains with a lot of sharp turns and narrow roads where one side is the deep chasms while another side is steep cliffs. However, standing on the summit of the Pass at an altitude of approximately 2000 meters is worth your effort since you will have a chance to contemplate the cloud floating just like a fairy realm. So, that's the main reason why it is called the Heaven Gate.
From this height, it is quite possible to admire the panoramic view of the valley with incredible terraced fields, the glorious Fansipan Mountain, and the majestic Silver Waterfall. Don't forget to stretch your legs, enjoy the cool air, and take many imposing photographs.
With the above useful ideas, hope that your travel to Sapa from Hanoi will be more meaningful than ever. Enjoy your trip with inspirational mind and free soul!