Many tourists have chance to visit but it is not everyone who is lucky to visit at one of the most stunning resorts in Sapa as Topas Ecolodge in which you can enjoy the most valuable trip at a real smokeless tourism spot in both denotation and connotation. Perhaps, this is the unique destination in Viet Nam having a tourism measure out of modern facilities which even cause you many troubles and stress. Coming to Topas Ecolodge, you can come to the nature and stay one of the best accommodations ever.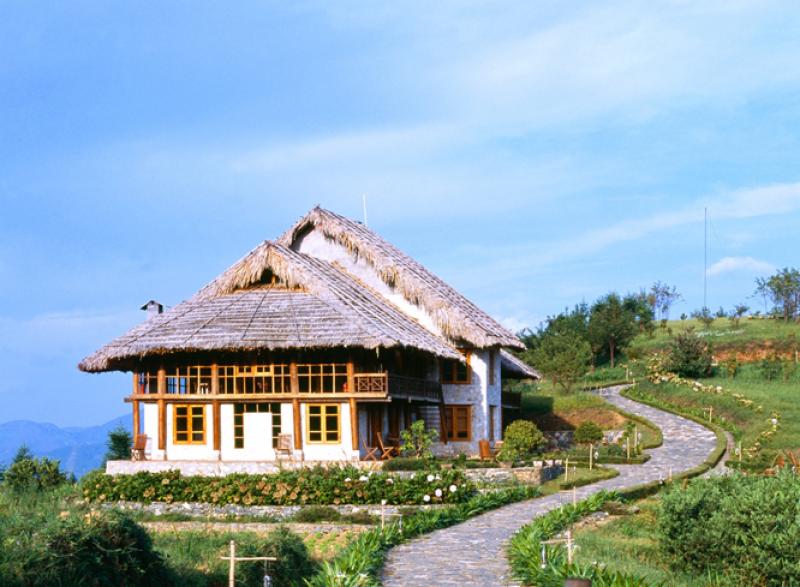 At 18km distance from Sapa Town and owning a perfect position on the top of the mountain, Topas Ecolodge Convalescence seems to be isolated with the bustle and hustle life surrounding. It is designed with 25 stilt houses and lots of beautiful restaurants and bars displayed in a nature-orienting style with fulfill facilities. In each house, there is a private lobby where you can sit in, relax and contemplate the breathtaking sceneries surrounding by superb mountain ranges, fascinating Muong Hoa Valley and scattered ethnic villages. In such a wonderful place like Topas Ecolodge, you definitely relax after a hard trekking day and also enjoy peaceful moments in the pristine nature.
Unique architecture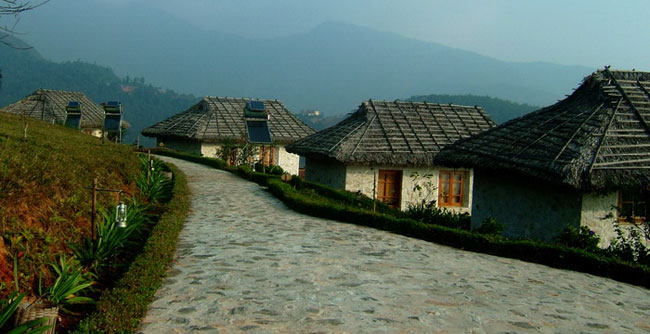 The whole resort consists of 25 closed stilt houses built from white granite and roofed with large palm leaves. The interior of each house may seduce you at the first sight with its full facilities made of wood, bamboo, rattan and even stone. Thus, when staying in such accommodation, you can get fantastic feelings as sinking deeply into the real nature. Each house is a small villa-kind construction arranged properly around the mountain side and on the top of the mountain, which creates a well-associated complex with stone paths and multi-view banisters.
Authentically nature Convalescence

One of the most attractive things in Sapa is to visit ethnic villages, which facilitates you to explore interesting and adventurous paths, contemplate naturally superb landscapes and traditional lifestyle of the native. However, the villages far from Sapa town could not provide you with standard accommodation services previously, which meant visitors only stayed at houses in the villages or camp outside of the villages. From this point, the idea of the best resort for tourist to Sapa was formed and then Topas Ecolodge was constructed as a kind of ecotourism convalescence. At present, the resort is the only one in Viet Nam which carries out tourism in this genre. The electric source using in Topas Ecolodge is solar power, the water is led from a private stream and processed through a filtered system. It is a processing system that is used for waste water in order to avoid polluting the surrounding environment. In particular, you will never be bothered by cell phones, laptops, or other kinds of smart devices that are vital but troublesome in a modern life, even there is no electric light but hurricane-lamps and some solar-power lights in bedrooms. All are nature and so are your routine devices such as special herb-origin or environmentally friendly shampoo or soap.
Best view to Sapa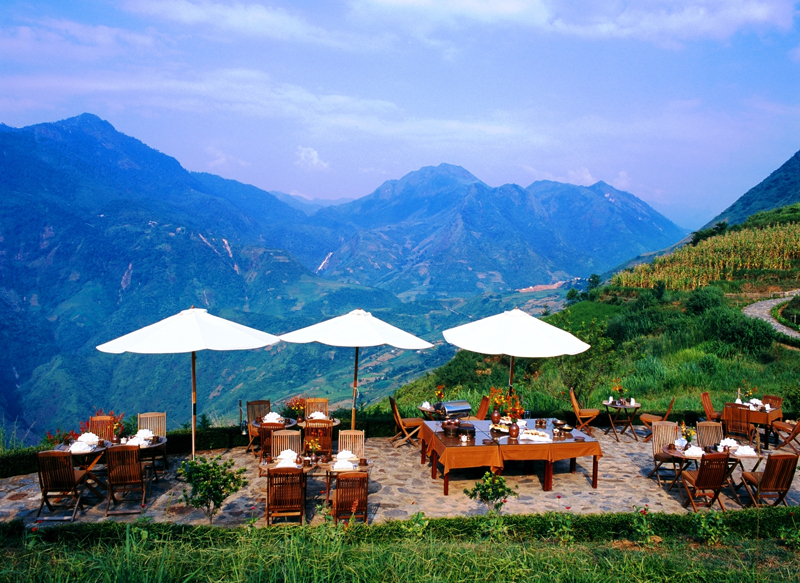 Located at the top of a 5-ha mountain in Thanh Kim commune, Topas Ecolodge looks like a natural bow facing with surrounding mountain ranges. Thus, standing in Topas Ecolodge, you can view the superb beauty of Hoang Lien Son Range which is changed seasonally in a day. If you take a view from Ban Ho Village, you may see a wonderful tottery resort jutting out over the imposing cliff. In any location, at the resort, you can contemplate the marvelous scenery of Muong Hoa Valley. Or if it is no fog, visitors will have a chance to enjoy the best view ever to winding path and beautiful stilt houses in Ban Ho Village along with streams constantly flowing around. Most of tourists coming to Topas Ecolodge all love watching Sapa's dawn. A morning in Topas is so unique since the sunrise is always later than that in other areas in Sapa. That's why at a such moment of a new day, you may get precious quietness and peace to heal your soul that is full of bustle and hustle of modern life, even you may feel that everything is getting out of time. Besides experiencing the truly natural life, you should pay time to cycling up to winding path and enjoy the exciting experience when getting downhill freely or going around green hillside. By the way, from this destination, remember to visit awesome terraced fields surrounding ethnic villages such as Lao Chai, Ta Van, Ban Ho and enjoy Rice wine of Thanh Kim Red Dao and unique cuisine of Tay people in Ban Ho. It is equivalent to a 3-star hotel, so the resort is usually full. Thus it is essential to you book in advance.
Useful information:
Total of rooms: 25
Storey: 1
Restaurant/Bar: 1
Conference room: 1
Distance from town center: 18 km
Distance from the airport: 60 km
Time to the airport: 90 min
Parking lot: Available
Car hiring service (with driver): Available
Tourism service: Available
Laundry service: Available
Non-smoking rooms: Available
Food-serving at room service: Available
Accepted Payment Methods: by account transfer, international credit card and cash
Best view to Sapa
Contact us via email: [email protected] if you want to make a booking room at Topas Ecolodge.
You May Also Like