Vietnam is the best place in the Indochina for your Vacation because of each season, Vietnam has its beauties. With Vietnam Vacation destinations, we will bring you to discover many stunning places, know more about culture and history in each region: the North, the highland.
Spend 2 first days in Hanoi – one of the best Vietnam vacation destinations
Welcome to Hanoi city which presents "The past in the present" both culture and architecture. This is located in the North and always is one of the Vietnam vacation destinations for all tourists; people can find many types of the local lifestyle here. Especially, day time and night time in Hanoi are quite different, so let's discover it.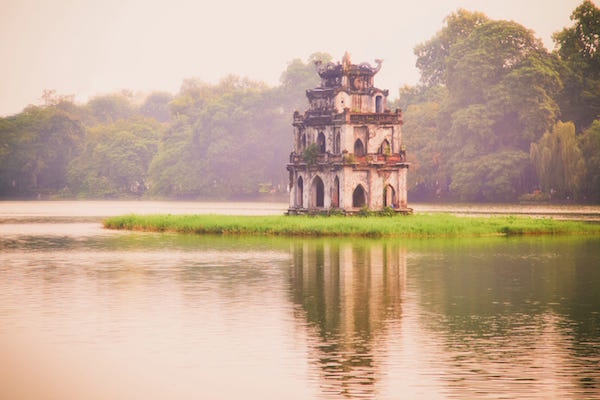 In the first day: It is time for arriving, so after being picked up from the airport, you should have a time for relaxing in order to keep good health before visiting Vietnam. After having a rest is the best time for you to discover some first places in Hanoi. If you choose a hotel in Old Quarter, you can easy to go for a walk in some famous streets like Ta Hien, Dao Duy Tu, Hang Dao, Hang Ngang… These streets are always hustling and bustling. Moreover, it is so interesting if you visit Hanoi at a weekend. At this time, the walking street will be expanded around Hoan Kiem Lake – the center of Hanoi. Before finishing the first day, you can join a bar or pub in the foreign street.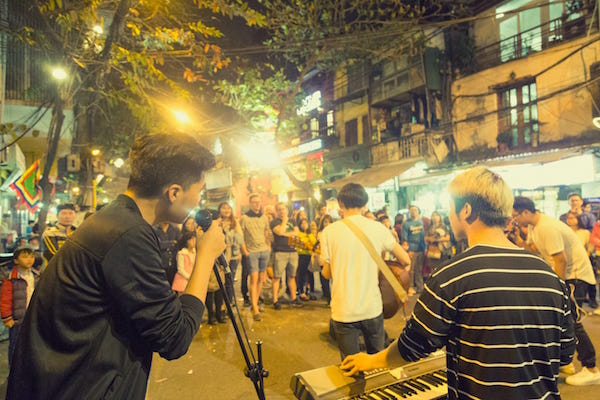 In the next day: This is time for you to discover many famous sites of Hanoi. They are located in different places in some districts of Hanoi, so you can have a plan to visit them in order to save time and money. In my opinion, you can 2 sites in Ba Dinh district in the morning, and visit others in the afternoon.
Firstly, you should go to visit Ho Chi Minh complex in the early morning because this site is so crowded and note that Ho Chi Minh Mausoleum does not open in every Monday and Friday. It takes you about 2-hour to visit all parts in this complex. You should remember that when visiting them, you will prepare formal clothes, comfortable shoes. After that, you will move to Temple of Literature, which is known for the first university in Vietnam. Coming here, you can go for a walk about 1 kilometer or take a taxi. Temple of Literature has one of the most typical architecture styles for centuries in Vietnam with the special design. Two sides of the pass way are hundred-year-old trees which have witnessed ups and downs of Vietnamese history.
Then, you can choose a restaurant for your lunch and have a short rest before starting a visit in the afternoon.
In the beginning, you will visit the Vietnam Museum of Ethnology, which is located in Cau Giay district; you can take a taxi to come here (the route is 5km from Temple of Literature with a taxi fee is about VND 60.000-80.000). This museum focuses on the 54 officially recognized ethnic groups in Vietnam, you will know more about the culture and Vietnamese people. Then you will catch a taxi to come back Hanoi center and visit some famous destination. Ngoc Son temple is the best place for you to discover the symbol of Hanoi, Vietnam. After that, you can catch a cyclo to travel around Hanoi old quarter and around Hoan Kiem Lake. You will find the differences of this ancient city, comparing to other cities in over the world. The evening is the best time for you to enjoy the other beauty of Hanoi. Moreover, you can spend time enjoying Hanoi street foods such as Bun Cha, Bun Rieu Cua, Pho Cuon… Do not forget to join a bar before finishing your second day.
Enjoy the next 2 days in Halong – the wonder of the world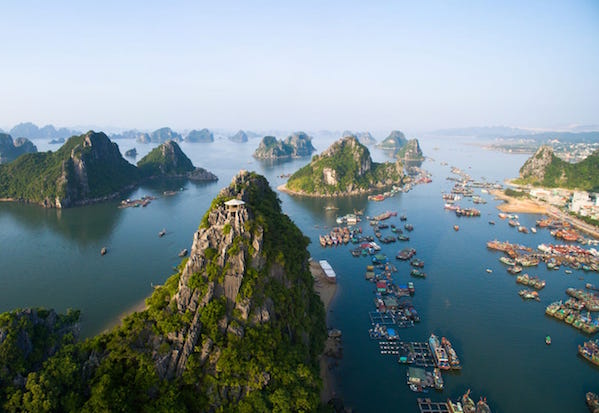 After having breakfast at a local restaurant in Hanoi, you can choose a shuttle bus to Halong (you should order in advance). Around 4-5 hours, you will be welcomed in a cruise and prepare to visit Halong Bay and relax at breathtaking karst scenery.
Halong is known for the World heritage site in 1994, Halong has millions of islands as well as dotted with the wind- and wave-eroded grottoes, which is a vision of ethereal beauty. This is number one tourism hub of Northen Vietnam.
You will check in your cruise and you will have a tour visiting around Halong Bay, including the caves, island with a white sand. Moreover, you can enjoy some beach activities like kayaking, swimming… in the afternoon. In the evening, there are a lot of activities here after having dinner with your relations. In particular, you can go fishing, sing with your friends or take a relax and enjoy Halong Bay at night.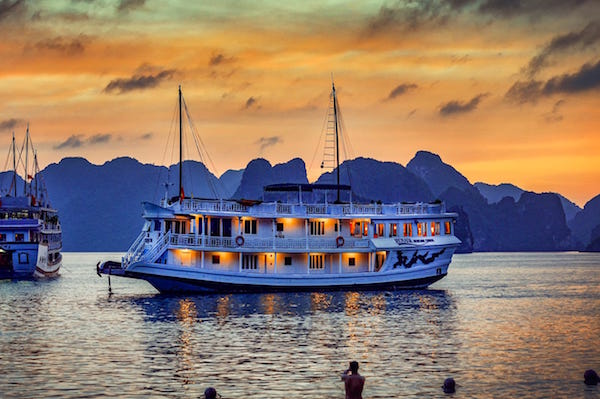 In the next day, you will get up early to watch the sunrise, it will be so stunning and do morning exercise. After that, you will have breakfast before preparing to check out your cruise and say goodbye Halong Bay – one of the best Vietnam vacation destinations
You will come back to Hanoi to have dinner and prepare to travel to Sapa by night train.
Sapa welcomes – 2 days tour
You will arrival at Lao Cai province at 6h00 and transfer to Sapa by shuttle bus.
Sapa is a famous mountainous region in Northen Vietnam where you will immerse yourself in the stunning landscapes and learn to appreciate indigenous culture or just to escape city noise or the stressful work. Sapa is one of the most Vietnam vacation destinations of the country, it is a precious present that Mother Nature gives to Vietnam.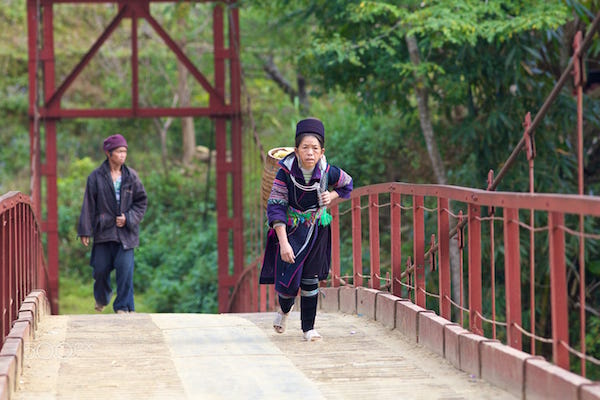 Firstly, you will have a tour to discover Matra – Taphin which are villages of H'mong ethnic. In the beginning, you will take a walk commences from Sapa on a trail running through the beautiful gardens and lush pine forests. During the route, you will pass through the Black Hmong ethnic minority of Matra which is a very small village hiding way from the civilization. Late morning, the walk continues through rice paddy fields as well as spectacular scenery. During the day you will also be able to visit a local school.
After taking a short rest, you will arrive at the Taphin village. You can hear about the unmixed cultural life of Black Hmong and Red Dao minorities which are 2 largest ethnic groups in the area. You can recognize them by dressing while they are both famous of handicraft. You will enjoy walking among local people.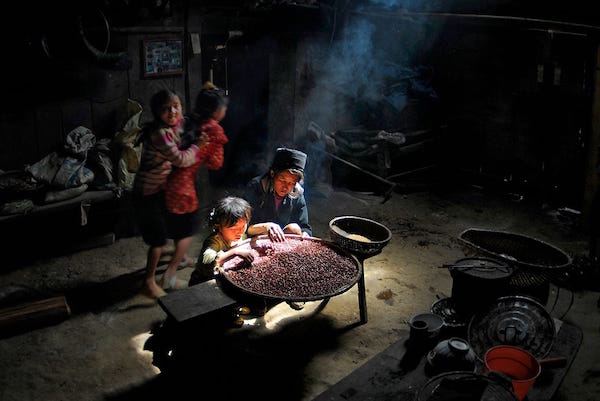 On the second day, you will visit Lao Chai – Tavan – Giang Ta Chai in order to experience a lifestyle of Black Hmong, Giay and Red Dao minorities. Firstly, you will visit Lao Chai Village – a Black Hmong ethnic minority village. Then, you will then be able to walk from Lao Chai to Tavan village where the Giay ethnic minority hill tribe lives. After saving your energy for lunch, let's get ready for upcoming sightseeing this afternoon. The walk continues through a bamboo forest to Giang Ta Chai, a Red Dao ethnic minority village. After taking a short rest nearby a waterfall to refresh, you will start climbing uphill to a road and your driver will pick up you and drive to Sapa town.
There are many Vietnam vacation destinations during a year, so you should find the best places for you in each season in order to get the best memorable experiences.