In Geography, North West Vietnam is combined of the dramatic mountains capes, the colorfully-clothed hill tribes, and the fresh air. Sapa is the heart of this unique piece of Vietnam. Travel to this peaceful land and meet resplendently dressed ethnic minorities at the local market, visit neighboring villages and hike through iridescent rice terraces, witnessing how the current of life has bubbled along here for centuries. We organized 3 days trekking through the hills and valleys of the Sapa region, you have a great opportunity to discover different minorities and the immersed in the traditional hill-tribe culture in Sapa Valley Tour.
JOURNEY HIGHLIGHTS
Trekking through the terrace rice fields surrounded mountains
Visiting some ethnic minorities for a closer look at their unique culture
Learning how to produce handicrafts during a journey in the village
Enjoying the traditional foods and wines in the ethnic groups
Experiencing in the activities of the local people when staying in homestay
Day 01: Welcome to Sapa – Cat Cat– Y Linh Ho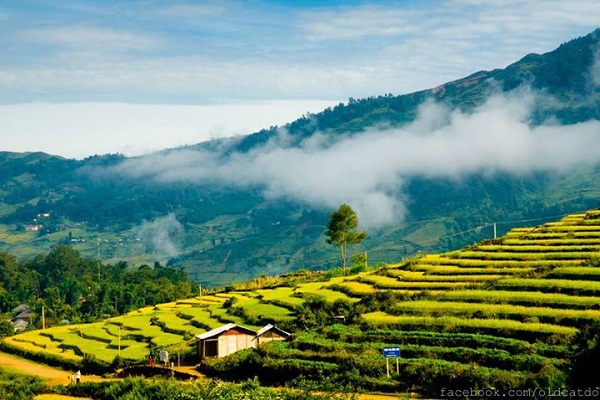 Cat Cat village
You take two hours to approach the first village in here which is Cat Cat village This village is situated in a beautiful valley about three kilometers from Sapa Town. And Cat Cat is known as the old village of ethnic groups which attracts tourists from all over the world for its distinctive customs and practices. This is a village of Black H'mong people where you can discover many interesting facts about their daily life as well as culture and architecture. In fact, it is also a good opportunity to purchase some traditional souvenirs and handicrafts right from the craftsmen such as twisting flax and weaving fabric.
Y Linh Ho village
Explore one of Sapa's less-traversed areas as you trek through the picturesque valleys surrounding the village of Y Linh Ho. is a small commune composed by many small hamlets scattering on the very tough mountain terrain with high and steep mountains. Y Linh Ho village is a house of the Black H'mong minority. They wear the dark clothing and navy dyed with indigo which often seen in the hands of older H'mong women. Their houses are built on their farmland and on the mainly cultivate corn, dry rice on the steep hillsides. As a result, the only way to get to the village is on foot on the road.
Day 02: Lao Chai – Ta Van – Giang Ta Chai
Lao Chai village
We trek to visit 3 different villages with the ethnic groups: Black H'Mong, Dzay, Red Dzao hill tribes. Lao Chai – is a village of Black Hmong ethnic people. Coming here, you will be caught up their daily life and how to make their traditional clothes, handicraft, indigo… Moreover, you have a chance to visit the biggest valley which offers to you the best views of the golden rice terrace field in Vietnam. After the Lao Chai village, you walk to Ta Van, a village of Giay people. It is a small group of ethnic people living in Vietnam, they still preserve a rich and traditional culture. Of course, you will enjoy the lunch with a local family in one of the beautiful traditional houses located on their rice paddy fields. After that, you can have a short sleep in the local people.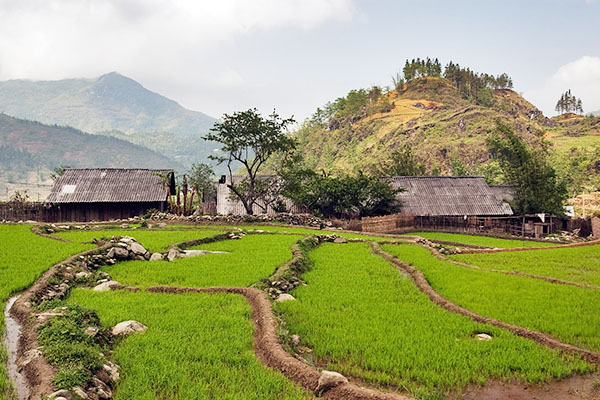 Giang Ta Chai village
To catch up Giang Ta Chai village, you need to walk through a bamboo forest. Giang Ta Chai village in Sapa in Vietnam is one of the best trekking where is home to a Red Dao ethnic minority village. In geographically, Giang Ta Chai is located in the opposite of Muong Hoa stream, especially; it was hidden by old trees and bamboo groves. You can explore the life of ethnic minorities; admire the spectacular natural scenery with the terraced rice fields. You visit Sapa's ancient rock with engraved images, both big and small – unique patterns of the ancients. Approaching the life of H'mong local people, you can know how they make their clothing. They buy the yarn at a local market; they still typically weave and embroider the fabric themselves. Their many crafts, their embroidery is stunning. This village offers a superb view of mountain and rice paddy fields on the other side of Muong Hoa Valley.
Ta Van village
Ta Van village is a place where many Vietnam ethnic minority groups live during a long time in harmony. Coming to this village you know how they make their traditional clothes, handicraft, indigo… Otherwise, you will visit the biggest valley which offers to the awesome landscape of the golden rice terrace field in Vietnam. Dzay people live in Ta Van village. It is a small group of ethnic people living in Northern Vietnam, they still keep a rich and traditional culture. There are many delicious foods such as Bamboo cooked rice (Com Lam) cooked by sticky rice, five-colored "Xoi Nam Mau", chicken of Mong ethnic people, fruits… However, street foods are not cheap.
Muong Hoa Valley
Muong Hoa valley is blooming with lots of colorful flowers in a wide range of various beauties. It is the time that the rice terraces are full of water at which you can contemplate one of the best scenery like the reflection of the sunshine on the fields' surface. Silver fall is located about a half hour from Sapa town that offers stunning views over surrounding mountains and lush forests belonging to Hoang Lien National Park. After taking a rest nearby a waterfall to refresh, you will start climbing uphill to a road, the car and your driver are ready for your journey back to Sapa.
Day 03: Suoi Ho – Ta Phin – Stone Church – Goodbye Sapa
Suoi Ho village
You trek up and down hills through the forest and on the terraced rice fields and visit the villages of the Black H'mong tribe in Ma Tra and Suoi Ho villages. Suoi Ho village is located on the mountain peak, which is attractive tourists by breathtaking landscapes, delicious dishes, and the hospitality of locals. Coming to the mountainous locality, visitors have a chance to contemplate beautiful orchid gardens and the breathtaking "Love" waterfall, taste delicious dishes from black chicken and other meat of the H'mong ethnic minority people, sip fine "Tao meo" (a kind of apple in north-western provinces of Viet Nam) cider, and take part in folk games and markets of the H'mong people.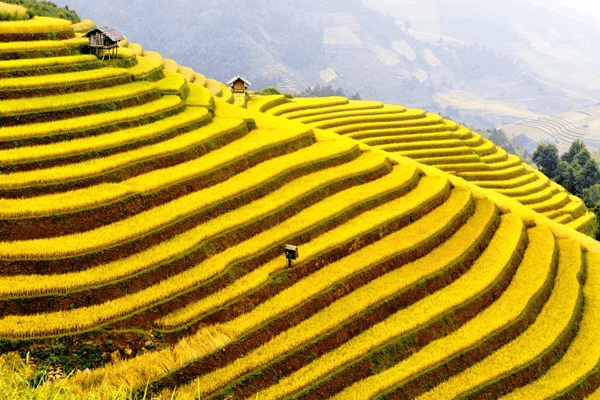 Ta Phin village
We pass the terraced rice fields and then continue our trek to Ta Phin where is one of the most attractive destination in Sapa Valley Tour. Ta Phin village is located in the Northeast of Sapa. Moreover, this village is bordered by mountain slopes with the rice terrace fields. In Ta Phin Village, there are two ethnic minorities living like the Red Dao and the Black Mong. Therefore, it is this time for the tourists experience the unmixed cultural life of Black Hmong and Red Dzao minorities. You come to Ta Phin can find many distinctively hand-made brocades made by ethnic people. All of the products have a numerous bright colors and patterns such as a bag, purse, skirt, and even backpack and coat.
Sapa Stone Church
Sapa Stone Church is a famous place where holds many traditional cultural activities of ethnic minorities. It is said that the direction of the church is the east, the direction of the sunrise. Sapa church was made from the shaped stones in combination with a mixture of sand, lime, and molasses even from the smallest details; that makes the church becomes more special. Moreover, it is also the main place for keeping many cultural traditional activities of the ethnic people in there.
Sapa is famous for many beautiful scenes, the wonderful weather and the unique food of the Northwest forests. We believe that you will get the unforgettable Sapa Valley Tour in 3 days. If you have any questions, let's send for us to deal with.