Cu Chi is known as a historical place in Vietnam, with tremendous relics that attract tourists internally and externally. Nowadays, many people want to take a trip to Vietnam package to this destination to enjoy the feeling of walking inside the famous tunnels in the war, try some interesting activities such as using guns or enjoy local delicacies. All of the services provided in a trip to Cu Chi will make your travel interesting.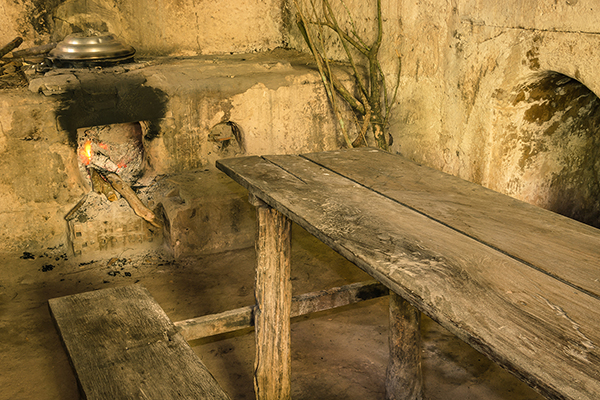 Cu Chi District is located about 70 kilometers far from the Ho Chi Minh City Center. It is a suitable choice for a day trip in groups. Many groups of people, friends or families choose to travel to Cu Chi in their holidays or weekends to experience interesting activities that only this historical place has. There are two relic areas of tunnels in Cu Chi: the first one is the Ben Duoc Tunnel in Phu Hien Ward, Phu My Hung Commune and Ben Dinh Tunnel in Ben Dinh Ward, Nhuan Duc Commune. The two tunnels are located 13 kilometers far from each other.
How to move between the places for visiting in Cu Chi in a trip to Vietnam package?
There are many ways that tourists can take to travel in Cu Chi. However, a reasonable choice is using buses. You can catch the bus 13 from Ben Thanh to Cu Chi Market and continue to catch bus 79 to get to Ben Duoc. On another way, if your destination is Ben Dinh, you need to catch bus 13, get down at An Suong bus stop and continue to catch bus 122 to reach Tan Quy intersection, before catching bus 70 to get to the final desired place.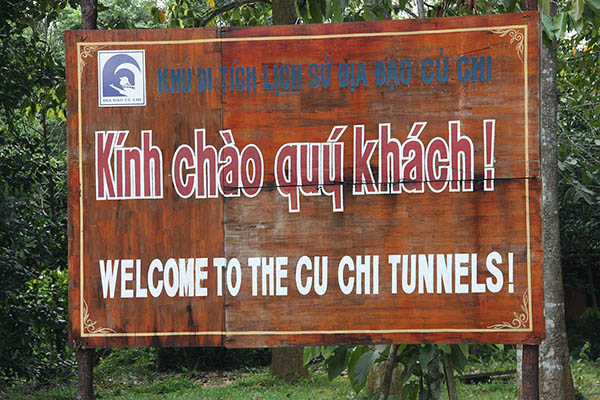 Of course, when traveling by bus, it may take a little bit more time, and not very convenient for active travelers. Therefore, another option for visitors is to move by cars, or motorbikes, if they are available, or your budget is enough. Take the direction to An Suong, follow 22 Avenue and make use of the instruction to lead to Cu Chi tunnels.
The most outstanding tourist destinations in Cu Chi for your trip to Vietnam package
The entrance ticket price is 20,000 dong to domestic tourists and 80,000 dongs to foreign tourists.
In each tunnel area, tourists are guided to visit, explore and learn about the historical relics and places with the detailed introduction of local guides, who know the best about the place.
Ben Duoc Tunnel is often the first destination for tourists when coming to Cu Chi. Getting to this place, tourists will have a chance to contemplate by their own eyes the tunnels with underground constructions such as the tunnel for accommodation and working place of leaders of the Party Committee, Military Command of Sai Gon – Cho Lon – Gia Dinh Military Region. Besides, there are also tunnels for meeting rooms, surgery, A-shape anti-collapse tunnels when bombs exploding closely, tunnels to store foods and weapons, secret cap, ventilation holes, combat area, Hoang Cam kitchen, workshop, place to display self-made weapons.
Ben Dinh Tunnel is the second destination in your Cu Chi trip to Vietnam package. In addition, to visiting the tunnel system, the living place, and accommodation, the meeting rooms for leaders of Cu Chi District Party Committee, house to display self-made weapons, etc., there is also a complex of the trench system.
To many tourists, the most interesting part of the travel to Cu Chi is experienced trying using guns at the National Defense Sports Shooting Range. You can choose the appropriate guns which used to be used in the past, during the war. After being fully instructed, you can try firing some bullets at the animal-shaped targets.
There is also a very interesting game for tourists in the Cu Chi tourist destination. It is the game to use paint spray guns, an activity that is both sporty and military. Apart from the purpose of relaxation, this activity also helps the players to improve the ability to organize, predict, collaborate with teammates and practice for better health.
After the active travel, tourists can visit the souvenir area to buy souvenir war items made from cartridges such as oil lamps, lighters, ballpoint pens, straps, or bear sandals made from oil tires and high-end lacquer, fine art items, together with typical souvenirs of rattan and craft items in villages in Cu Chi.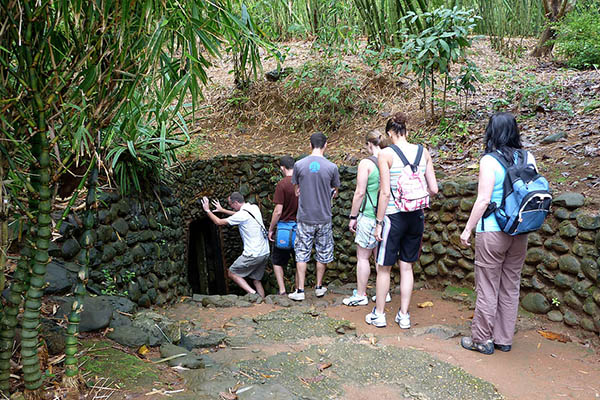 Besides, there is also a place that tourists should not ignore when visiting Cu Chi tourist destination, which is the Wildlife Rescue Station. This is the place which rescues and provide treatments to wild animals getting trapped or sick. After the animals recover, they will be returned back to their natural habitat. The rescue station is located in the middle of Ben Dinh and Ben Duoc, about 1 kilometer from the great hall. From its first day of inception, the station has saved about 3,600 animals of various rare species. Therefore, take a moment to visit and explore new things about these animal species to understand the work of wildlife protectors. From this activity, the visitors will have the better love towards the work or animal protection and the love to the wildlife nature.
Eating services in Cu Chi for your trip to Vietnam package
If you go in a crowded group and have the need of having lunch in the relic area, you should connect to the restaurants of Ben Dinh or Ben Duoc beforehand to book the lunch.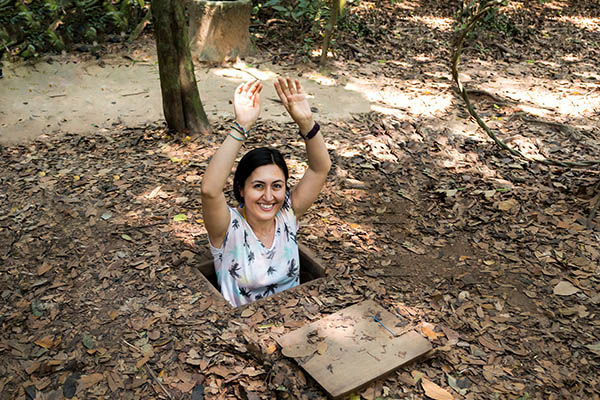 On the way getting back to the city, do not forget to drop in the Vuon Cau sugar cane juice stall. The drinks sold include sugar cane with the flavor of durian and taste the dish of stewed cassava with coconut milk. Cu Chi is also famous for dishes made of beef. Restaurants on 22 Avenue are often very crowded. The dishes you should try are boiled beef served with forest vegetable, broiled beef, and beef porridge. With only about 100,000 to 150,000 dong for each person, you will be served with a very tasty meal.
A trip to Cu Chi is always a memorable travel when you come to Vietnam, a country with the pride of history and enjoy that trip to Vietnam package. Not only is a historical place with famous relics to tourists, this destination also attracts visitors with its specialties and other natural landscapes. This article is brief introductions with basic information to help you with a trip to Cu Chi. Do not hesitate to plan now and enjoy your time at this tourist destination.