Why does Sapa completely persuade almost tourists when traveling there? Sapa is a mysterious land with a great number of spectacular sceneries and the special culture of the ethnic groups. Thus, coming here, you will have the opportunity to contemplate the beauty of marvelous mountains, luxuriant forests, conquer the challenged Fansipan. This is the highest mountain peak of Vietnam, or just simply learn about the daily life of the ethnic people.
Sapa town is about 38 kilometers from Lao Cai and about 376 kilometers from Hanoi Capital. How to Sapa from Hanoi? There are three methods including by train, by sleeper bus or by motorbike.
Choosing the typical transport to get Sapa
Travel to Sapa by train is the most popular option for every tourist as it's more comfortable and safer than other means of transport. You can easily buy the ticket at the train station. Firstly, the train will stop at Lao Cai train station that is about 35 kilometers from Sapa town and you have to catch a bus up to Sapa with a bus ticket costs about 50,000 VND to 60.000 VND. There are lots of bus lines waiting at the train station for you to choose.
This kind of train has four beds in each compartment that offers air-conditioner, reading lamps for bed, comfortable white pillows, blankets, and mattresses. Moreover, it is also equipped with 4 bottles of drink water and sockets for tourists to charging their mobile devices. You can find a toilet at the end of each coach and it is pretty clean. Besides, you can order food or coffee at food coach. A tourist train ticket costs from 550,000 VND – 650,000 VND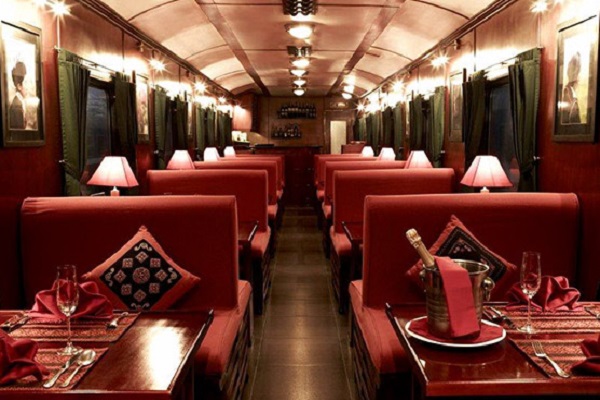 Other option to get to Sapa from Hanoi is by bus. Though it is faster and cheaper, it is considered more dangerous than moving by train. The way from Hanoi to Sapa is not an easy and cheerful way. You will definitely feel uncomfortable when staying in a narrow unconcealed space for more than 6 hours. A bus ticket costs 230,000 VND – 300,000 VND and they also offer sleeper bus routes that can help you save time and hotel bill just like traveling by train. You can choose sleeper bus or express Hanoi to Sapa. By sleeper bus, it takes you 8-9 hours to go directly to Sapa town.
A good point a traveling to Sapa by bus is that you can get to Sapa directly without using transit bus. Currently, there is a new highway route from Hanoi to Lao Cai that offers a shorter way and it takes you only 4 hours to get to Lao Cai and one more hour to move from Lao Cai to Sapa.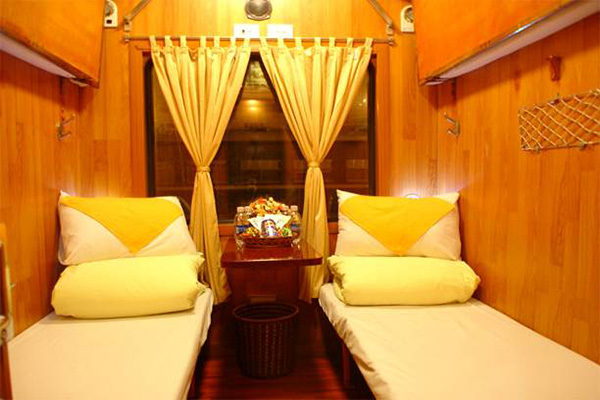 How to go Sapa from Hanoi? There is getting to Sapa from Hanoi by motorbike. However, driving directly to Sapa from Hanoi by bike is quite dangerous. It makes more time to move on the road. If you want to visit Sapa by motorbike, the suggestion for you is that after getting to Lao Cai station by train, let's hire a motorbike. Then you drive to see the amazing scenery around you or rent a motorbike in Sapa. The suitable time to visit Sapa as its stunning yellow winding rice padded fields and the love market is from September to April. You are comfortable to take photograph beautiful scenes and video the awesome moments while driving private.
Top destinations in Sapa you shouldn't miss
Cat Cat village
Cat Cat is the old village of ethnic groups which attracts tourists from all over the world for its distinctive customs and practices. After walking to Cat Cat Village, you will have an opportunity to see farms and techniques used by the people in the area. Cat Cat village, the home of the Black H'mong people, who is famous for its brocade weaving craft as well as its gold and silver jewelry making. Not only that, you can buy several traditional souvenirs and handicrafts from the local hosts such as twisting flax and weaving fabric.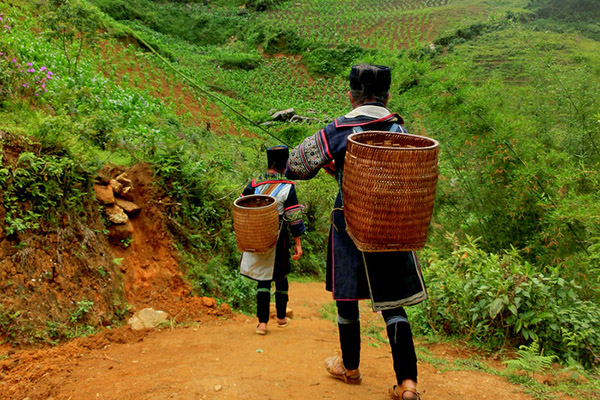 Shin Chai village
This short trek to Shin Chai community village allows you for cultural acclimatization. Local people always take time to make the textile weaving. They are willing to explain the names and function of the local flora for your understand. The Red Dao ethnic people in there wear the colorful clothes. There will be the opportunity to participate in the village community, there will be a traditional sporting activity and tree planting.
Lao Chai village
Lao Chai village is a home of black H'mong people. From the above, you can admire a great view of the whole village open wide to offer the marvelous panorama of the village, backed by high mountains and facing the river. Going to visit this village, you will enjoy the fresh air, see terrace fields, stream. Not only that you also discover deeply some of the H'mong's families. There are three large villages including over 100 families of the ethnic, especially, local people are quite hospitable. To have more understanding of their culture and customs, you can ask them. Local people in Lao Chai village also has the power experience in growing the rice farming near the bottom of the valley. And they grow corn on the mountain slopes at the back of the village. It is the main of their income.
Muong Hoa Valley
Muong Hoa is known as the largest farmland for rice growing in SaPa, which is one of the most famous places for breathtaking scenery. It is far from town about 14 kilometers. To approach Muong Hoa Valley, you can trek along Muong Hoa River. Geography, this valley lies between two mountain scrapped in the parallel south-east of SaPa town. On the way, you can learn more about how is the rice cultivating. Especially, visiting Muong Hoa valley you will grace the colorful flowers in a wide range of various beauties.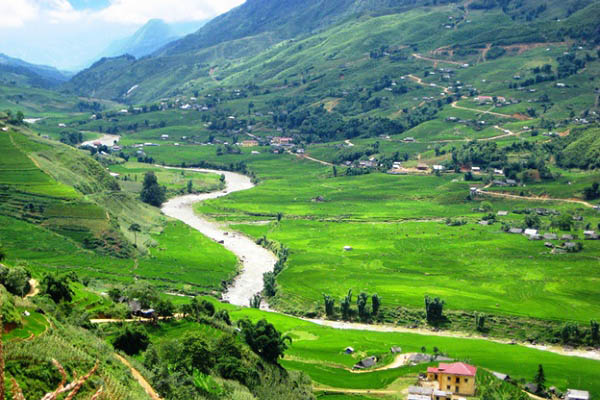 From afar, you can grace the rainwater follow dozens of streams downhill to the floor forming the Muong Hoa. Continuously, you follow across the small town and rice fields of the ethnic minority people of H'Mong, Dao, and many others. They have been working on the sloping land and living their own ways for hundreds of years.
Guide some local markets hold
Sapa is famous for its markets, and on almost every day of the week. Therefore, you don't worry about missed any markets during the coming time. Coc Ly Market is celebrated on Tuesday which is a great place to buy traditional costumes and to learn more about the local culture. On Wednesday, Sin Cheng Market is a small market in the Si Ma Cai district, where you can meet several ethnics of the White H'Mong, Flower H'Mong, Tay and Black Dao who sell the beautiful traditional costumes. Sometimes the market can be hard to reach due to road conditions. After one day, Lung Khau Nhin is located high in the mountains of the Tram Ton pass. Various small tribes such as the H'Mong, White Tai, and Tai Lu are gathering to sell their products. Next, there are two largest markets organized in the weekend such as Can Cau Market and Bac Ha market. Can Cau market is located only 7 kilometers from the Chinese border, and just like the other markets, a fascinating and authentic experience. The most famous and biggest market of Sapa is Bac Ha. You can buy several products, such as handicrafts, traditional costumes, and food. Various tribes are gathering at this market.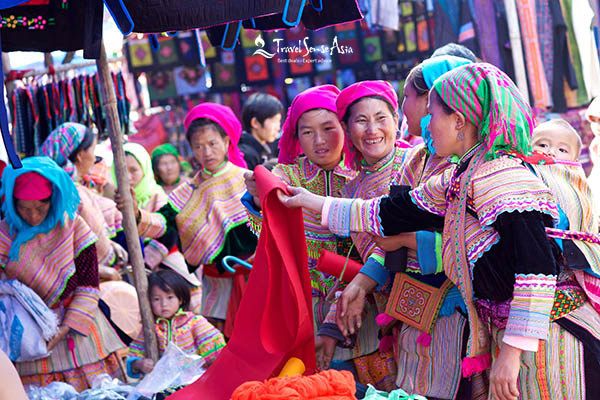 The important tips for how to Sapa from Hanoi:
You should not travel to Sapa in some big Vietnamese holiday on April 30th or May 1st because it's crazy crowded with a super high cost.
If you want to travel to Sapa from September to October, you ought to book the ticket months in advance. Because this period is the peak season of Sapa when the terrace rice fields look extremely beautiful.
If you travel with a group of 8 people or more, you can hire a car to move from Lao Cai to Sapa. It will be cheaper and more comfortable than moving by bus. This service costs only 50,000 VND per person.
When arriving in Lao Cai train station, you should choose an almost full passengers bus to get to Sapa. If you choose to get on a bus that has many seats still have not been taken, you will have to wait for a long time.
Watch out your belongings and keep valuable things with you all the time.
High recommendation for you is to wear comfortable outfit.