Being an upland village, Ban Pho is one of the famous destinations in Sapa, deserving a try.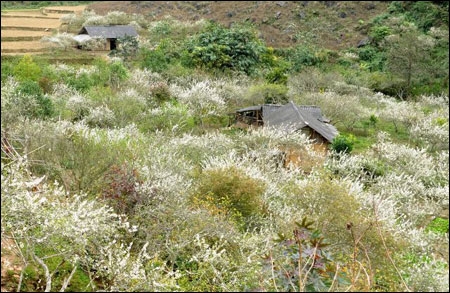 From Bac Ha town, you can trace the 4km winding trail along with the Hoang Lien Son's side, enjoy the beautiful views of green valley and splendid corn and rice terraces as well as contemplate awesome Tam Hoa pump forests at the same time then you will meet Ban Pho village. The path to this village is considered one of the must-dos as you are in Sapa trip.
In Quan Hoa language – a joint language of some ethnic living in the north mountainous zone, "Pho" means a location gathering residents, stores and restaurants, thus with its longstanding existence, this is a good place for you enjoying both the landscapes of Northwest zone and its unique cuisine. Ban Pho has been home of the Mong for a long time with over 500 households and 3,000 residents and that explains why tourists who want to try the authentic Thang Co and Corn wine must meet Ban Pho first. From a distant view, most of tourists have the same feeling that it is indeed a stunning and lively picture with green superb mountain ranges and forests, the Mong's rudimentary houses along the mountain sides. One more interesting characteristic that you can find in the Mong of Ban Pho is their house architecture, which is followed with cold land structure, including high position along with cliffs or mountain sides, low floors and airtight construction building from wood and roofing from the precious Pomu wood. If you have a chance to visit the Mong's house in Ban Pho, you may be surprised with strings of meat hung over the stove which tastes like hams.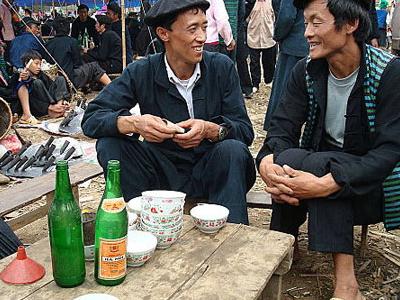 One of the most attractive characteristics of Ban Pho may lie in its exotic "Ruou ngo" ("Corn wine") which is a traditional wine usually serving with the delicious "Thang Co". Large number of travelers coming to this land is just to enjoy this tasty and healthy wine along with trying Thang Co. This tasty wine is not available in every but Ban Pho – the original place of corn wine since to have a bottle of corn wine, it needs corns grown in this land with typically favorable weather conditions, water from Hang De Stream, then the corns are soaked in frost in Ban Pho and after that it is used Hong My seeds for yeast. Besides its featured corn wine along with Thang Co dish, Ban Pho is home of plentiful specialities such as Men Men, Tam Hoa pumps, pears and peaches. In addition to contemplating the beautiful landscapes and the superb Bac Ha highland, this is a precious trip for you enjoying the special food of the ethnic, particularly in Ban Pho Village. Actually, Ban Pho is a must-go for its authentic and special food, which is waiting for gastronomes in all over the world.
If you want to experience a very ethnic village, you must come to Ban pho village. Since the villagers live a simply life without  bright lights and loud music, even they carry out their daily routines with no electricity and though it seems to be hard for you expecting about the shortage life like that, they always make up their very hospitality to welcome strangers like tourists coming and studying about their life. The Hmong villagers are some of the kindest and most hospitable people you could meet in Vietnam. If you visit around noon or you reach their house at lunch time, you may be invited to join in their meal with the warm and sincere welcome, and for this case, it had better you come and join in the meal without any hesitation to both get precious experience along with enjoy the delicious and fresh food and avoid disappointing the hosts.
If you are lucky to visit Ban Pho in special occasions like Tet holiday or fairs, you can enjoy the Mong's exotic and beautiful performances of plentiful instruments, particularly the "Khen" (pan-pine) and "Dan moi" (lip lute). This is one of the typically traditional activities of the ethnic in general and of the young boys and girls to show their emotion to each other in narrow sense, especially a new couple can be formed from this occasion though harmonic melodies.
For any reason, Ban Pho is indeed a must-go for tourists to Viet Nam, especially to the upland Sapa town.