Just only 4 days tour of the Central Vietnam itinerary but you will learn and experience the Vietnam history, culture, habits, and customs by visiting all the famous destinations. Of course, this trip also offers you the stunning views, traditional foods with local spicy cuisines, Royal-style dishes, and local handicraft villages… The Complex of Monument of Hue, Phong Nha Caves, Hoian Ancient Town and the most modern City in Central Vietnam – Danang City are the itinerary in Central Vietnam.
Day 1 – 2: Hue – Hoian
Hue is one of the most beautiful cities where was once Vietnam's feudal capital. This small and quiet city is renowned for its magnificent architecture, beautiful pagodas, and royal tombs. Hue holds the beauty of a Vietnamese feudal empire and the architecture system of Hue Citadel as the representatives of the authority of Nguyen monarch. The Citadel is the coherency of the decoration and oriental architecture, which creates a charming view of the city. Moreover, the tombs of the Nguyen Kings are always attractive travelers by the great achievements of the construction. It is voted that tombs will be the heaven for its owner for the life so it means that each tomb is based on the personality of the owner. There are many places attractive visit Cham Museum, Non Nuoc Beach, Lang Co Beach, Citadel with a lot of constructions of Royal Palace. You can depart to ancient Hoian town over Hai Van Pass for a panorama view of Lang Co beach. In the first evening, you can impress yourself by joining one of the boat trips along Perfume River, savoring Hue Royal specialty and music. In Hue, you have a chance to enjoy the two magnificent and skillful kinds of music: "Dai Nhac" and "Nha Nhac" are developed from the old 8 kinds of ritual music under Le and Nguyen dynasty.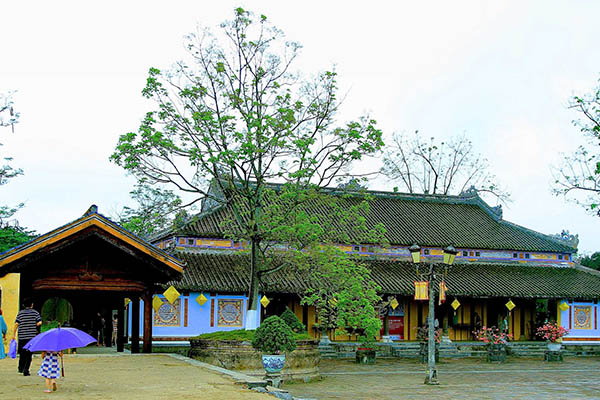 On the second day, you should take our boat trip to Thien Mu pagoda, driving to Tu Duc's King's tomb. Then visit the bustling Dong Ba Market and the mausoleum of Emperor Minh Mang, in a tranquil setting of gardens and lakes. If you have a free time, a high suggestion for you is to visit Phong Nha Cave which brings the strange feeling for travelers.
Day 3: Hoian – Danang
The way from Hue to Hoi An is already easy by Hai Van tunnel connecting Hue to Hoi An, which is one of its kind in Southeast Asia. Hoian, a beautiful town located in Quang Nam province has attracted tourists thanks to its ancient beauty, unique culture, and great food. Time's gone but this ancient city still holds its Eastern oriental classic captivation as the first days being born. Firstly, in Hoian, the tourists can easily realize is the architecture. Clearly, you should visit 200 – year old Tam Ky House, Chua Ong Pagoda, Chinese Assembly Halls and Japanese Bridge pagoda. Moreover, some attraction destinations in Hoian that your team should explore like centuries-old Buddhist pagodas, quaint museums, and shop houses which are located between the popular areas of Riverside and ancient town. One suggestion for you is to discover the places in the evening by the interesting lines of a lamp. Besides, Hoian becomes so charming with colorful silk lanterns, local foods, particular souvenirs and traditional events to welcome the full moon. Otherwise, if you want to have more experience in the trip, you should rent a bicycle is an excellent way to get around as it's cheap and easy to park. Coming here, you should taste many traditional foods such as chicken rice, Cao Lau, bread, pancake, tea and so on.
Day 4: Danang – Departure
Finishing the trip in Hoian, you will be picked up at your hotel to transfer Danang.
On the way back, you should visit Ngu Hanh Son (Marble Mountain) which is the attractive destination in best tours in Vietnam. It is a complex of five marble and limestone mountains, named metal, wood, water, fire and earth. These mountains have an impressive system of caves and tunnels. In history, they were used as hiding places and an important base for the Vietnam revolutionaries. If you have a free time, you should come to My Khe which is one of the most beautiful beaches in the world which is always welcome you with all harmonious facilities supplied for tourism. Of course, this beach is very suitable for swimming or takes place the water sports and sunbathing or swimming while enjoying the beautiful nature here with sunny, nice wave, cool water, and fresh air. Additionally, you should try many special kinds of seafood like shrimp, crab, squid, and abalone.
Ending the Central Vietnam tour itinerary, surely, you will get the awesome trip in three main destinations. To conclude, you can consider our plan to arrange the suitable time for the trip. We hope that you will enjoy the stunning view and historical culture of the places.