Currently, Sapa is more and more attractive tourists especially foreigners coming here as this destination is created by many stunning landscapes and the long historical culture. However, almost travelers want to know the detail how to spend 3 days to get the best Sapa tour Vietnam? Nowadays, we will respond the questions for them and you can refer the answer to get the best tour and best price in Sapa.

Highlights of the trip:
Have a close glance in the daily life of Vietnamese ethnic minorities through the boisterous place – local market.
A unique Sapa hiking experience escorted by a professional expert guide.
Hike up to the most beautiful and photogenic section of Sapa town on the ridge of the mountains.
Be a guest at a local resident house and witness the cultural differences making how original experience is.
On the first day
After arriving in Sapa town, you can take one hour to check in your hotel and relax before starting the trip with the peaceful destination. Following to a road going downhill to Cat Cat village where you will be impressed by the peacefully picturesque sceneries. Cat Cat is a village of H'Mong ethnic minority, about 2 kilometers from Sapa Town. Almost local people earn their living by growing rice and corns on terraced fields and developing animal husbandry. Besides, they have developed traditional handicrafts. The most interesting thing for you is that contemplate all the beauty of nature in a waterfall, rice paddy terraces, and a narrow blue river while you are on the way. When visiting Cat Cat village, you can see both of terraces rice and streams to pounding rice. Then you enjoy the local lunch cooked by the ethnic people.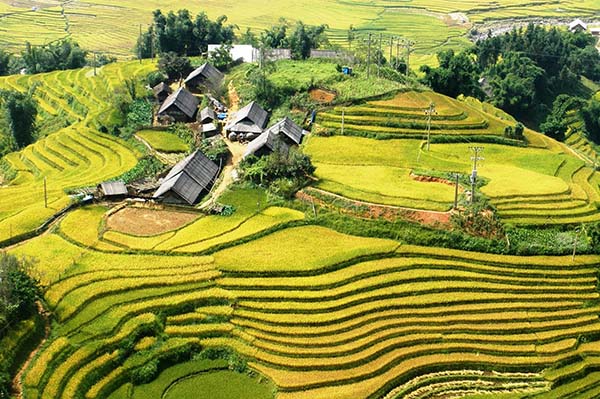 In the afternoon, you trek Y Linh Ho village which is well-known as a small commune composed by a dozen of small hamlets scattering on the high and steep mountains. Therefore, you can enjoy the breathtaking scenery. The local people built their rudimentary houses on their farmland and mainly cultivate corn and dry rice on the steep hillsides. It is the best time to you have a chance to visit the H'mong people living in their wooden and bamboo houses. This village is home to the Black Mong who wear very dark clothing with indigo (often seen in the hands of older Mong women). Continuously, you should walk beside the river and valley to Lao Chai village where the H'mong also lives. Of course, if the weather is good you can go for a swim!
On the second day
Walk past beautiful terraced rice fields, you will also trek through a gorgeous bamboo forest which belongs to Hoang Lien National Park to a picturesque waterfall in Giang Ta Chai village, home of Red Zao, Hmong and Dzay minority. Giang Ta Chai located in the opposite to Muong Hoa stream and was hidden by old trees and bamboo groves. Like other beauty spots in Sapa, you will admire the gorgeous picture of mountains and rice terraced fields. Coming to the village, you will be charmed immediately with the outstanding traditional costumes of the local people, and most of those clothes are made from natural materials.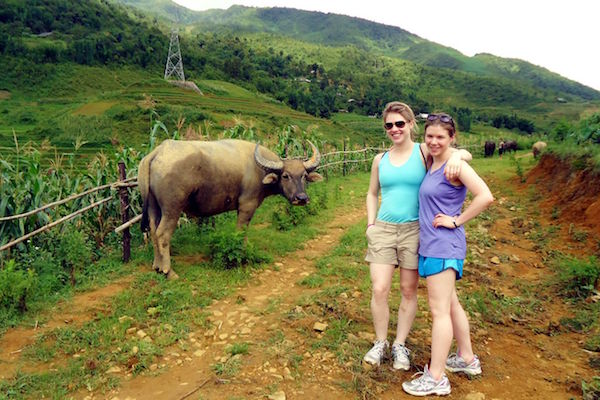 Continue toward Su Pan, located along Muong Hoa Valley like Lao Chai and Ta Van but Su Pan village can be referred to as "mountainous commune". Giang Ta Chai is the village of Red Dao and has become one of the attractive places for visitors who want to experience the colorful traditional customs. Situated in corner of the main road about 17 kilometers from Sapa town, Supan Village is one of the small villages in Sapa exiting the number of inhabitants. After visiting Giang Ta Chai village and Supan village and heading back to the main road to catch the jeep and return to Sapa Town. They embroider traditional patterns such as birds, flowers and zigzag symbol with many colorful threads to produce the sophisticated small gift for sales.
Free time to explore until dinner.
On the third day
You will have the experience the noisy atmosphere at Bac Ha market the largest market in the region. Of course, coming this market, you will meet many ethnic groups such as Red Hmong, Black Dao, Tay, Nung,… who come from far to buy and sell a wide variety of goods, to exchange news. You have a chance to buy homemade handicrafts and clothes made from herbal remedies and meats such as chicken feet, horse legs, even dog to local crafts. There are many stunning famous foods you can try the tastes in Bac Ha market such as Bac Ha sour noodle, Thang Co (soup), corn wine, five-color rice, grilled chicken and so on.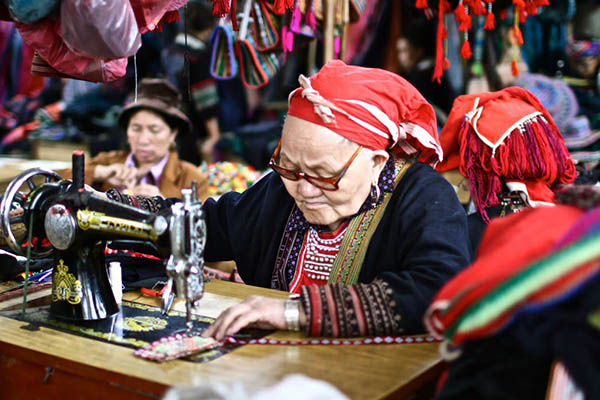 Next, you back to Sapa town and take a photograph on the roadway. Then, you can walk around the town to grace some places here.