For foreigners, choosing a package tour from Hanoi to Sapa may be a safe decision. However, travel from Hanoi to Sapa is extremely easy. It also costs less money. You will have more time and freedom to discover the naturally breathtaking landscapes, go to some unpopular yet elegant destination, and experience the custom, lifestyle, cuisine of Sapa. I can assume to you that just by reading one or some articles about the journey from Hanoi to Sapa, you can arrange your own tour without difficulty.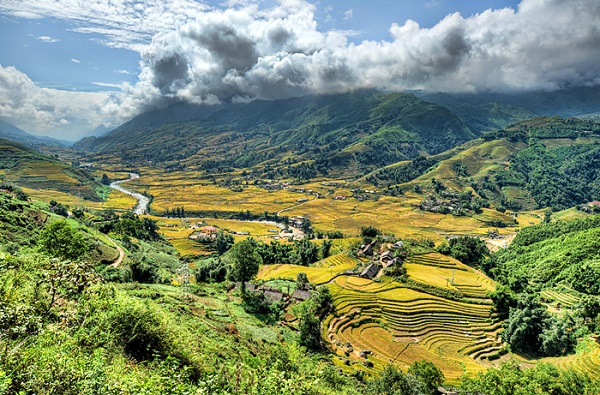 How to travel from Hanoi to Sapa
The distance is about 300 kilometers, and it depends on the routine you choose. If you are an adventurer, you definitely love to travel by motorbike. If you want to have a safe and sound trip, you can choose to go by car, taxi, and limousine. If you have lots of time and want to watch the scenery alongside the way, you'd love to go on a train. In this part, I will show you how to travel by all of these vehicles.
By motorbike
It is quite dangerous if you are not a good motorbike rider, so consider it well before choosing this vehicle. You should take notice of the weather condition, your health condition and your riding skills. And remember, Google Maps in Vietnam is not that accurate, so you can get lost easily. Let's bring a paper map as plan B, and don't hesitate to ask the local people for direction.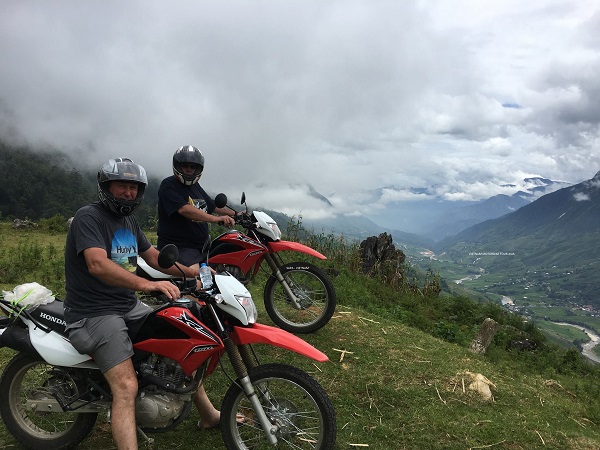 It only costs you 150.000VNĐ to refill the fuel on the way. There are 3 possible routines for you to go:
+ Hanoi – Vinh Phuc – Viet Tri – Phong Chau – Doan Hung – Yen Bai – Lao Cai – Sapa (total distance: 360 kilometers)
+ Hanoi – Hoa Lac – Son Tay – Trung Ha Bridge – Phong Chau Bridge – Phong Chau – Doan Hung – Road No.70 – Lao Cai – Sapa (total distance: 370 kilometers)
+ Hanoi – Hoa Lac – Son Tay – Thanh Son – Route 32 – Sapa (total distance: 420 kilometers)
By car/taxi/limousine
It is the most convenient vehicle to transfer from Hanoi to Sapa. This transportation is quite fast and personal, so you will have more private space and time. There are 6 seat and 29 seat limousine to choose from. With taxi and care, it depends on your demand that it will be 4 seats, 10 seats, 16 seats or more. You should book a seat first as in the rush tourist seasons, the seats are running out really quickly. The price is about 400.000VNĐ, depending on your schedule or if it is the weekend or not.
By train
Domestic tourists don't prefer traveling by train, but you can try it if you like. SP is the high speed train while LC is the normal train. The price ticket is affordable and divides into different classes. It departs in Hanoi Train Station at night, from 19 p.m to 22 p.m, and arrive at Lao Cai Train Station in the early morning, from 5 a.m to 7 a.m. It takes more time to reach the destination.
You won't stop directly in Sapa Town, but you stop at Lao Cai Province, then get on a bus to Sapa with the ticket price of 50.000VNĐ. However, at weekends, there is no available seat on the bus, so consider carefully before going by train.  
By bus
You only spend 5 to 6 hours going from Hanoi to Sapa by bus. Buses are continuously available, so you don't have to wait too long for another Sapa bus. You also don't have to book the ticket before arriving at the bus station. You can go on a bus at My Dinh Bus Station and Gia Lam Bus Station or the bus offices.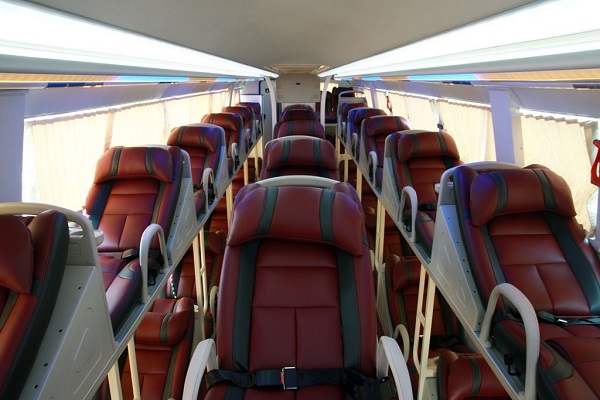 There are 2 types of buses: normal seats and lying seats. The lying seats could provide you better convenience and comfort. Some bus suggestions are Sapa Express, Inter Bus Line, Hung Thanh Sapa, and Queen Cafe. The ticket price range is between 200.000VNĐ to 300.000VNĐ.
When to travel to Sapa
It is said that the perfect time to travel to Sapa is April-May or September-October as there are golden rice terraces and blossom flowers. However, if you want to experience the winter beauty of this mountainous area, you can choose to go from December to February. The cold weather here is rare in Vietnam, so I think you may love to visit a cold Sapa.
What to prepare for your travel
You should book accommodation before arriving in Sapa town. Since Sapa is a hot tourist attraction, you may find it difficult to get a cozy, comfortable, and clean homestay, hotel or hostel that fulfills your demand. And I suggest you stay in a homestay, as they have a warm welcome to foreigners, stunning mountainous view, perfect services, and very hostile.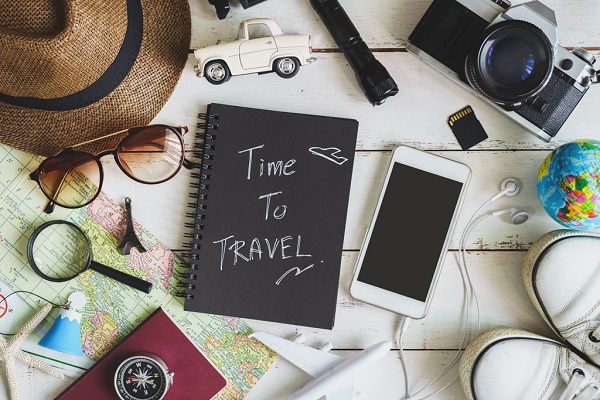 You should remember to bring some sun protection such as a hat, sunglasses, jacket, etc. The weather in Sapa is changeable. It may be cold, but the sunlight is burnt. And don't forget to bring mosquito medicine or insecticide. You are in the highland, so the biodiversity of insects could be trouble.
Where to travel to Sapa
If you wish to acknowledge the custom, lifestyle, and culture of Sapa inhabitants, you should visit some of their tribal villages such as Cat Cat village, Ta Phin village, etc. Each village is a different minority, and you can learn a lot from them. Moreover, you can enjoy special traditional dishes of the minorities, buy some local handcrafts, have a traditional ethnic massage, and take a bath in their medicine leaves (Vietnamese minorities are famous for their medicine leaves as it helps to relieve stress and exhaust). You may want to spend one to two day stay in a village; there will be homestay for tourists.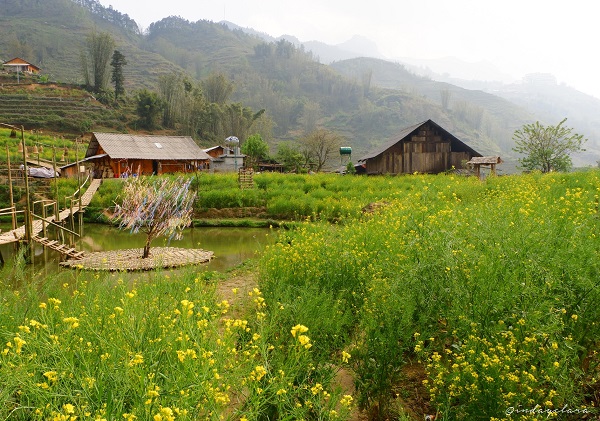 Some well-known tourist attractions in Sapa are Mount Fansipan, Ham Rong Mountain, Silver Fall, Muong Hoa Valley, Fairy Cave, Tram Ton Pass, Sapa Lake, The Stone Church, etc. The scenery is covered in fog and sea of clouds, and you enjoy it in the special bitter cold climate of the mountainous area. If you are lucky enough to visit Sapa in the harvest time, you can admire the golden majestic rice terraces, the wild yet romantic blossom flowers alongside the cliffs, and the gorgeous vast valleys.
More details about the attractions are listed and described in other articles. In this post, I just want to give you an overview as well as some tips to travel from Hanoi to Sapa safely and happily. Sapa will satisfy everything you expect from an adventurous yet peaceful mountainous Vietnamese journey.