Situated in the Northwest Vietnam, Sapa is a unique mountainous district of Lao Cai Province where you can enjoy not only the modest and peaceful ambiance but also many spectacular wonders of the natural scene. What makes the highland appealing is the harmonious combination of the cool weather, the topography of the enormous mountains and green forests, as well as the creativity of hill-tribe locals. That's why Sapa Valley has become one of the romantic and fascinating destinations for both domestic and foreign visitors to discover every year
Due to the height of 1,600 meters above the sea level, the area's average temperature is often from 15°C to 18°C. That means it is really cool in summer, but highly cold in winter. In general, the warmest months include July and August, while the coldest ones include December and January. The big magnet of the town is that people can see snow falls on the highest peaks in some years. But, it is worth noticing that sudden thunderstorm and heavy rains can appear at noon in summer. Amazingly, after the rain, the appearance of a rainbow does turn Sapa into an imposingly magic land with 7 colors! As a result, it seems a big pity to miss this magnificent view.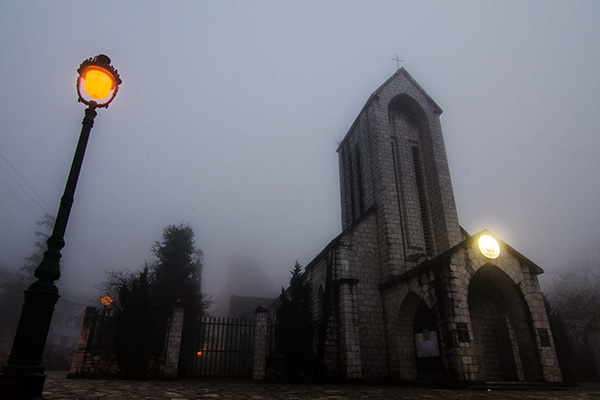 Along with that, the destination is also reputable for its fascinating cultural diversity of ethnic minorities. Tourists will have a chance to mingle with the special customs of the villagers as well as joining in local markets which are always crowded and joyful. Particularly, when checking in Sapa at weekend, you have permission to learn more about the local ethnic groups' courtship and marital life, through the Love Market. Today, we are happy to introduce to you the detailed itinerary to Sapa within 3 days below!
Enjoy your first day in Sapa at Topas Ecolodge
On the day 1, you will be led towards Topas Ecolodge – a perfect paradise for the most relaxing stay. It is considered a brilliant chance to explore the imposing scenery and experience the unique culture of ethnic minority communities in the mountainous area. Surrounded by rolling hills, enormous paddy fields, lush green forests, and simple villages, Topas Ecolodge is just a small eco-friendly hotel located on the top of the two marvelous cone-shaped hills set deep in the Sapa Valley of Northern Vietnam. Far 18 kilometers away from Sapa town, it takes about 45 minutes to get there on a bus ride.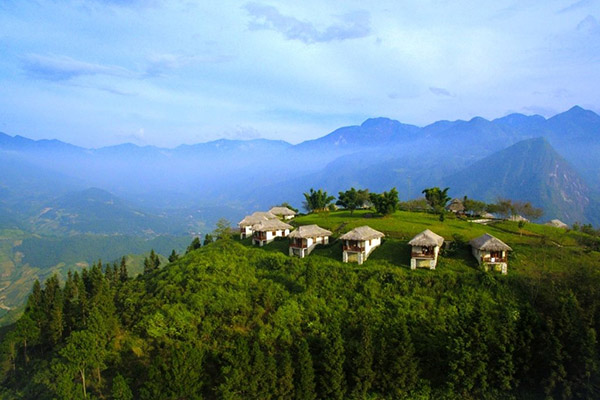 On the whole, there are 17 deluxe bungalows and 8 executive bungalows. Each bungalow is impressively built as the rustic chalet-style house from local white granite. Especially, the private balcony from these bungalows allows you to contemplate the spectacular view of the towering peaks as well as endless valleys dotted with locals' villages.
In general, life around the lodge is intriguing and colorful with the minority tribal groups of Tay, Black H'mong, and Red Dao going about their daily lives. In free time, don't forget to wander around the villages and interact with the locals there. They are always willing to welcome you. After all, it is a good place for the adventurers or those who are fond of hiking, biking, or simply escaping away from the noisy and busy vibe of the city life.
Discover the most remote land of Sapa Valley on the second day
Along with marveling at the imposing terraced fields, magnificent mountains, and attractive scenery around Sapa, you should not overlook visiting ethnic villages and find more about their traditional lifestyles. Of course, since these villages are far away from Sapa town, then you cannot get full standard accommodation services. That's why lots of trekkers just enjoy simple homestay experiences or even choose to camp outside of the villages. For adventurous tourists, it is a great opportunity to challenge themselves and learn more new things from the life.
From Topas Ecolodge, you start trekking toward the Nam Nhiu village that is majorly inhabited by Red Dao locals. During the route, don't forget to capture the eye-catching views of high mountains, deep valleys, and extraordinary waterfalls. Locals in the village tend to work as farmers – their main job. Hence, the best way to understand their daily lives is to talk with them and listen to their stories.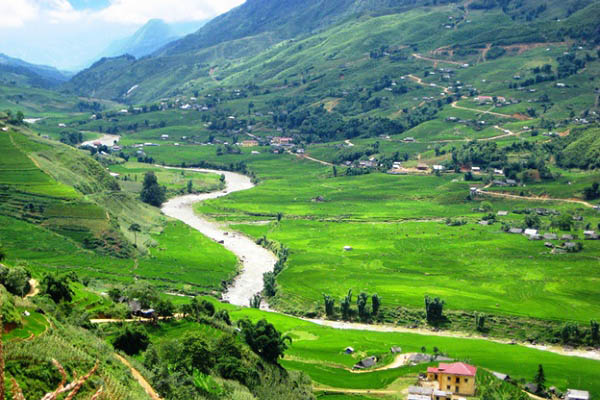 Saying goodbye to the Nam Nhiu village, you will welcome another distant village, namely Nam Cang village. Far 36 kilometers away from Sapa town, the village is known as the most remote region in the area. Most of the villagers are the Red Dao and Black H'mong ethnic minorities. Though the growth of cardamom has quickly changed the lives of the farmers, rice is still the biggest crop which is indeed the foundation of all livelihood in this mountainous area. A hike to Nam Can bring you a chance to engage in the daily traditional activities of the villagers, like archery, fishing, rice planting/harvesting, bamboo paper making, silversmith, etc.
Then, you will have a delicious lunch in Nam Cang Riverside Lodge – a community-based homestay for travelers. Situated deep in the isolated Sapa Valley with a stunning river in front of and green forest behind, the lodge is built by a Red Dao minority family. The staffs there are very friendly and enthusiast. Just ask them everything, and they are always ready to lend you a hand.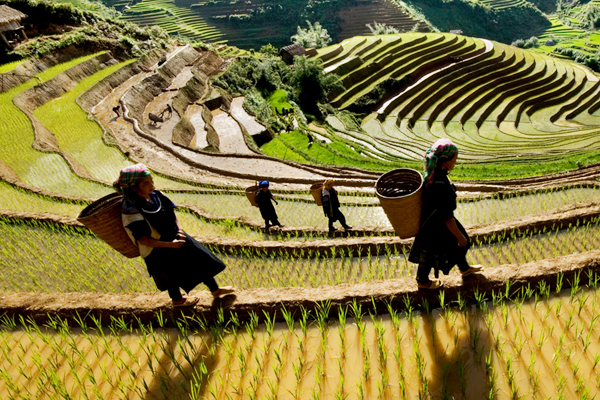 On the route back to Topas Ecolodge, visitors are guided to check in My Son village. The Xa Pho minority mostly takes up the village. In terms of costumes, their clothes are totally different from other ethnic groups. Generally, women wear a short shirt and a long skirt that is specially made from indigo-dyed hemp fabric. A bright red thread is used to embroider all decorations on their clothes. The unique thing about My Son villagers is their strong neighborhood. That means they are willing to share everything with each other. If a family has no food, for instance, members of that family can visit their neighbors for meals. If any family in the village kill chickens or pigs, everyone around is able to come to enjoy without an invitation. Therefore, don't mind participating in their party with great enthusiasm after visiting there.
End the final day by joining in the colorful market of Bac Ha
A trip to Sapa is incomplete without coming to Bac Ha market that is held every Sunday. What makes the market famous is its authenticity and originality preserved by the traders. Actually, it is not only a place for people to gather and trade goods, but also an opportunity for many different ethnic communities to come and meet, for women to beautify themselves with a lot of handmade traditional costumes, for relatives to truly reunite after a long time of missing, and even for dozens of young locals to find their dates. Several ethnic vendors must overcome a long distance of mountains and hills in order to reach the market. After all, the long distance and tough route have never discouraged them from engaging in the Sunday colorful market. For visitors, Bac Ha is a flawless spot for them to run away from the overwhelmed crowd of tourists in Sapa and inspire their photography passion.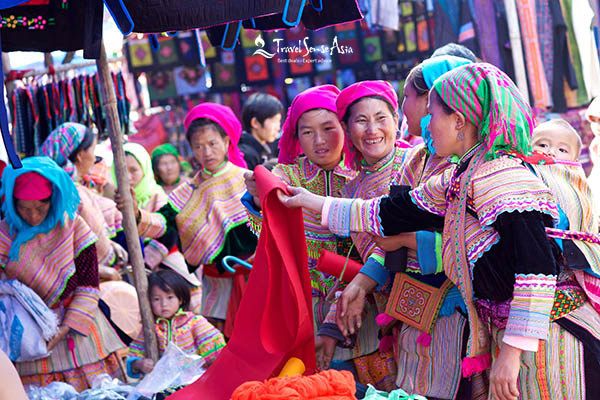 After having lunch, travelers will drive downhill for half an hour to check in Trung Do village, which is about 17 kilometers far away from Bac Ha town. Especially, the geographical location of the village does create greatly favorable conditions for the growth and development of all the sectors, including tourism community activities. A visit to Trung Do is certainly worth your time. It is quite possible to admire lush rice paddies, tranquil corn beaches on the shores of the Chay River, or breathtaking natural scenery along. Moreover, you also witness simple stilt houses of the Tay ethnic locals and get a better understanding of their daily lives, customs and habits, and manufacturing process. Make sure to have yourself immersed in the lives of ethnic people through daily activities of meals, sleep and living by the service of homestay experience.
In brief, the Northwest area of Vietnam is a captivating blend of crisp fresh air, magnificent mountainscapes, and colorful clothes of hill-tribe villagers. Located on the slopes of a picturesque green valley, Sapa usually attracts a number of visitors every year, thanks to its uniqueness. Traveling to the peaceful highland permits you to engage in many interesting activities, such as visiting ethnic villages, meeting resplendently-dressed minority groups at the local market, witnessing how their current lives, hiking through iridescent rice terraces and so on. As a result, don't miss this 3-day adventure to Sapa Valley we have presented above to enhance your knowledge and gain many unforgettable memories right now!