A Northern Vietnam itinerary is totally worthy. Northern Vietnam borders with China, Laos and the sea. Here represents rich cultural diversity, pristine landscapes, as well as distinctive Vietnamese customs and lifestyles. Each region in northern Vietnam has an extraordinary charm that you may spend a lifetime to feel and understand. However, time is limited, so may I suggest you at least 4 destinations that you have to visit in your Northern Vietnam itinerary. You will experience from urban to rural areas, from the sea to the mountains, from forests to beaches, from picturesque well-known spots to unpopular breathtaking destinations.
Hanoi – Capital city of Vietnam
You should spend at least four days in Hanoi to experience all the Hanoian beauties. Hanoi is a combination of everything. The city is famous for its busy streets, buzzing markets and lots of motorbikes always running on the road. It is always crowded here, so you will never get lost or feel unsafe. It is said that crossing the road in Hanoi is a dangerous yet exciting experience that you should try. Hanoi has a unique flavor that mixes the traditions and the moderns in every corner of the street.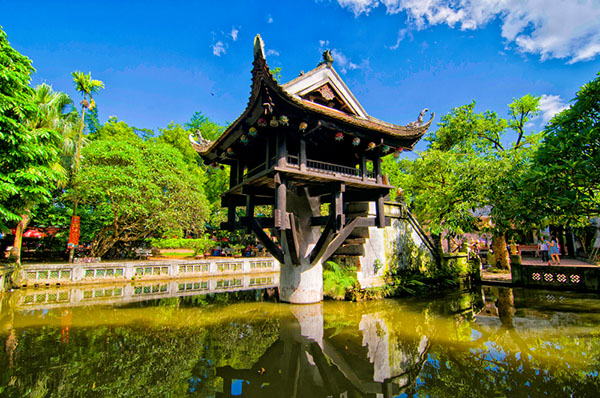 Lots of things can be experienced in Hanoi. Some sightseeings you should visit are Ho Chi Minh mausoleum, One Pillar Pagoda, Guom Lake, 36 Ancient Streets, Vietnam Museum of Ethnology, Temple of Literature, etc. Each has distinctive historical and spiritual meanings that help you to acknowledge more about Vietnamese culture.
You can try special dishes such as Pho, Bun Cha, a variety of spring rolls, Banh mi, and so many more. You will never get hungry here as the food is everywhere. At night, you can go to Ta Hien street and eat some snacks, drink with friends and listen to live music. At weekends, you can pay a visit to the walking street, located in Guom Lake. There are a lot of games and activities for you to join and play.
Ninh Binh province – a highlighted part of your Northern Vietnam itinerary
You should spend about two days in Ninh Binh province. If you don't like crowded and busy places like Hanoi, Ninh Binh province might be a great experience. This province is 100 kilometers to the south, famous for its breathtaking limestone mountains and tranquil natural beauty.
Here has Bai Dinh Pagoda, the largest pagoda in South East Asia, the symbol of Buddhism. It shows how this religion strongly influences the Vietnamese society. There is also Cuc Phuong national park which owns abundant trees and flowers, giving you a deeper insight into the natural biodiversity of Vietnam.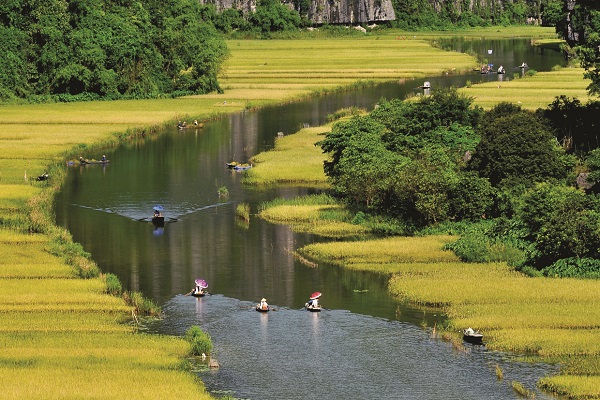 Trang An Landscape Complex is another must-go destination for tourists. It was recognized as a Cultural and Natural World Heritage by UNESCO. Trang An is full of gorgeous caves, ancient religious temples, and natural stunning valleys.
From Trang An, you can go to Hang Mua to have an overview of the rivers and mountains, as well as take some picturesque photos. Besides, Tam Coc and Van Long Nature Reserve are worth a visit.
The most common and trendiest transportation in Ninh Binh province is the boat. You must have a boat trip to visit majestic caves, golden rice fields, and other natural beauties.
Halong Bay – famous UNESCO World Heritage Site for ecotourism
How can you have the best Northern Vietnam itinerary without going to Halong Bay? It depends on you that you will stay here for one or two days. Halong Bay is in Quang Binh province, 170 kilometers far from Hanoi.
You will have a closer look at the rich biological bay, blue sapphire ocean along with numerous limestone islands and islets. You will travel around Halong Bay by boat, have a meal with fresh seafood while viewing the stunning scenery. It is suggested that you should be on the boat early to watch the beautiful sunrise on Halong Bay and spend a whole day to appreciate this natural beauty. You will have a chance to visit some caves, watch a variety of islets and islands with distinctive formations. You can ask the boat owner to carry you to the beach in some islands for swimming or sunbathing.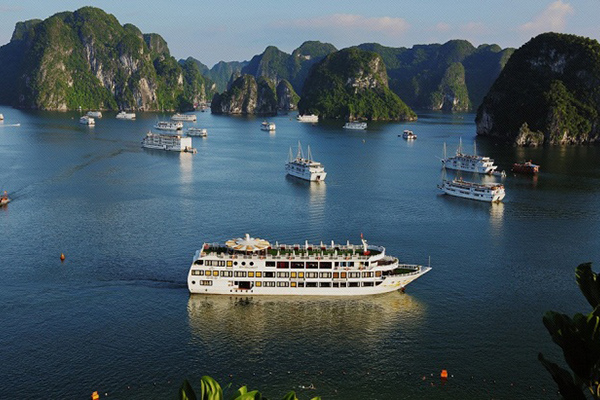 Instead of visiting Halong Bay, there are a lot of spots for you to pay a visit around Ha Long city. You can go to Sun World Recreational Complex, Tuan Chau Island, some local fishing villages and Bai Chay beach. And remember to bring some hats, suncream or other protection or else you may be sunburnt.
Sapa – picturesque mountainous landscapes and cultural diversity
If you love mountainous areas and interacting with local minorities, you can't skip this location. You can spend two to three days here. It is 300 kilometers far from Hanoi, and you can travel by train or public bus easily. You can go hiking a lot in Sapa, like many peaks waiting for you to conquer.
The most famous destination in Sapa is Mt. Fansipan, with the highest peak to 3143 meters. You can either climb to the peak or go by the cable system. From the Mt. Fansipan peak, you can watch misty scenery and some green terraces looming in the sea of clouds and fog.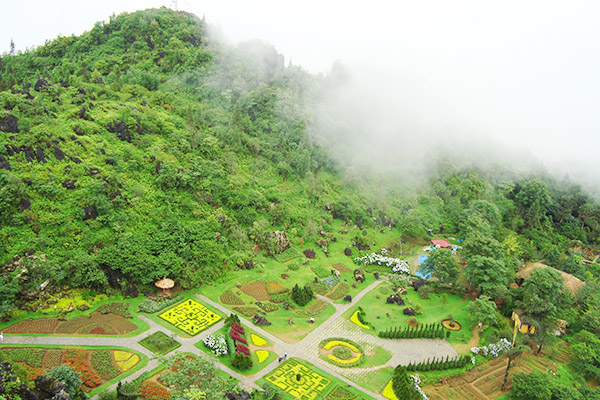 You can go hiking in Ham Long mountain and experience the rich variety of plants and flowers, especially the orchid, cherry blossoms, etc. And when you are tired of hiking and climbing, you could try to discover the culture of minorities in local villages. There are Ta Phin village, Cat Cat village, Ta Van village, etc. for you to discover. You can wear local clothes, see some ethnic distinctive patterns, communicate with minorities, eat local dishes, drink local alcohol, and so many more to experience.
Are these destinations enough for a Northern Vietnam itinerary?
Here are just some must-go destinations. In fact, there are many more cities and provinces in Northern Vietnam to discover and acknowledge. I can list for you some more spots like Ha Lan Bay, Ha Giang, Mai Chau, Moc Chau, etc. Depending on your time and health that you can explore more or fewer areas. Hope that from this article, you may have an overview and plan your Northern Vietnam itinerary well.