Welcome to Sapa, you will experience in the home to stunning mountain landscapes, verdant rice terraces, unique stilt villages and Indochina peak. One famous destination in Sapa is Fansipan, which is the highest mountain in Vietnam and it is only 19 kilometers from town. Not only that, where to go in Sapa in 2018? Tourists can climb experience in the villages, the rice terraces and as the peak is accessible all year round. Technical climbing skills are not necessary, but endurance is a must.
Villages of Ethnic people
Sapa is the world of ethnic people including Red Dao, Hmong, Tay and so on. Tourist shouldn't miss a chance of attending a trekking tour the distinctive lifestyle of locals. Coming to here, you are exposed to the highland lives at its best genuineness. These villages have always had the blending of natural landscape and richness of traditional values. Added to those things, traditional crafts like fabric-weaving, rice-farming, corn-farming.
Visiting Cat Cat, tourists will be impressed by the peacefully picturesque sceneries. You can take a photograph of living of local people, the landscapes. For distance, it is easy to catch of women sitting in front of the loom with colorful pieces of brocade. And their children play around with pets or even livestock. Especially, women completely spend much of time to dye them with special leaves and embroider beautiful patterns of flower and animal. Moreover, you will be taught the main skill at manipulating sophisticated gold and silver jewelry.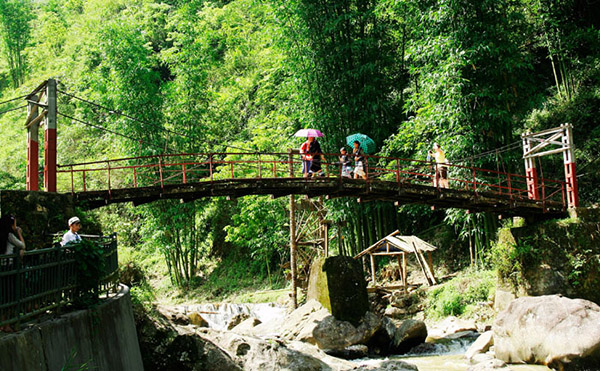 The original architect of H'Mong people is interesting as well. Cat Cat Village gives tourists a chance to have a glimpse into the daily life of local ethnic people, as well as take part in traditional activities such as weaving fabric. It is a chance for you purchase some traditional souvenirs and handicrafts right from the craftsmen.
Coming to Ta Phin, you will immediately approach the living of Red Dao's women. In fact, they keep inside their hand's colorful reels of thread and cloths. The local host will offer the goods to the customers. Amazingly, most of them can speak quite well, they can understand your mean meaning. So if you want to understand something, you can say with them. You can buy the handmade brocades by ethnic people. You will be attracted by the numerous bright colors and patterns of products like bag, scarf, purse, and coat. As you know, this village is the main supplier of brocades for souvenirs shops and the products are exported to foreign countries as well as they love its design. Thus, you can buy several souvenirs. Especially, if you meet the marriage with the local hosts, you can join a Red Dao's wedding to see how they prepare and many complicated customs for this occasion.
You continue passing a bamboo forest to Giang Ta Chai. This village is one of the best trekking in Sapa and is home to a Red Dao ethnic minority village. Giang Ta Chai is located in the opposite to Muong Hoa stream and was hidden by old trees and bamboo groves. Coming here, you may be free to discover the life of ethnic minorities; the spectacular natural scenery with the terraced rice fields. Next, you visit Sapa's ancient rock with diversity images including big shape and small shape. Approaching the life, you can know how they make their clothing. They buy the necessaries at a local market and weave and embroider the fabric themselves. Their many crafts, their embroidery is stunning. Where to go in Sapa can't miss a superb view of mountain and rice paddy fields on the other side of Muong Hoa Valley.
Muong Hoa Valley – Ancient Rock Site
Another place is Muong Hoa valley which owns hundreds of huge stones carved with mysterious drawings. And it is known as a symbol of Sapa and remains unexplained up to now. Muong Hoa valley is blooming with lots of colorful flowers created the various beauties. Nowadays, these ancient rocks are ranked as relics that should really be preserved with high concern. If you travel on the best time – the rice terraces are full of water at which you can contemplate one of the best scenery like the reflection of the sunshine on the fields' surface. It is from September to October.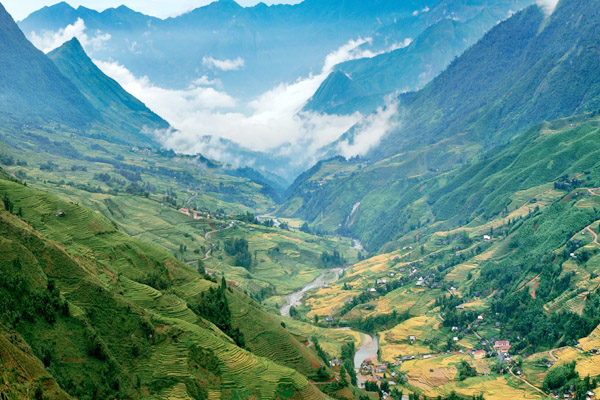 Sapa Market
If you want to learn the culture of a region, let's come to one of the markets in there. The sapa market brings the original culture of highland periodic market sessions still remain the same. Dao, H'mong people and so on will bring many home-made items brought to the market to exchange for other items or to sell for money. Sapa Market is more crowded on the weekend, as it is the right time for people from all remote villages to gather in one place, do a business exchange or even make friends. It's a cultural highlight that people love and hope to maintain.
Because Sapa involves most rural areas in Vietnam, there are no shopping malls in Sapa. Instead, shopping takes place at markets where locals buy (and sell) an assortment of goods. Fresh ingredients, handicrafts, and clothing are plentiful. Tourists can also purchase souvenirs. If you want to buy something, you can bargain to keep the above price.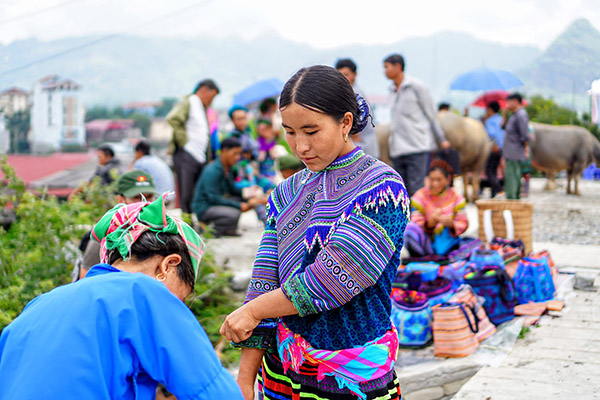 Ham Rong mountain peak
In Geography, Ham Rong Mountain is located nearly to Sapa town center. Thus, it is easy to get it. One suggestion for you is to bring the devices, camera to take the photograph when walking at leisure to the top of this mountain just to relax while looking at scenic surroundings. The site has been restructured with typical natural landscape and resting station for climbers. Catching up Ham Rong peak is not waste your energy as you think, on the contrary, this peak is very easy to top as its path is not so steep. Continuously, you keep the walking to grace panoramic view of the whole Sapa town might make one's heart beat faster. Muong Hoa valley and villages of ethnic people have created an amazing picture of nature.
Fansipan
Catching up the top of Fansipan Peak called the Roof of Indochina is the most challenging level for trekkers. Thus, you will need to spend two days and one night finishing the hike. You can't trek by yourself as the dangerous so you need a local experienced guide and porter who brings your luggage as well as understand the route deeply. After passing Cat Cat village and crossing Muong Hoa River, you need to trek upward for nearly 7 hours to reach the first campsite at a height of 2300 meters. After passing the first step, you will take challenges in the next step with hiking since you trek through the arrowroot plantations and bamboo forests. To save your energy, you should overnight in the tent in the mountain slope facing west, near a mountain stream. On the next day, you will conquer to the peak of Fansipan Peak, with the height of 3143 meters. After that, you need to spend three hours to pass the dense bamboo forest, but it is worthy as from the peak, you can grace the best panorama of Vietnam.
One suggestion for you is trekking on the top of Fansipan is from October to May as its advantages. When trekking in Fansipan Peak, you should prepare some necessary items. The one can hold about 3-4,5 kg and has straps on chest and abdomen, which should be strong and fixed. Tourists had better choose the dedicated hiking shoes. You bring your shoes to trek mountain need to be ensured the characteristics of soft, thick, waterproof and have good friction, high neck and sweat absorbing. If you travel in the months from March to May, bring the summer clothes. However, you need to bring the sweat-wicking, good wicking, good elasticity, and ventilation when you visit Sapa in three months from October – December. Besides, you should carry necessary items such as phone, backup charger, medicine, notebook sleeping bag and so on.