Sapa is one of the most ideal destinations for someone who wants to get the best experience in the cultural local. This is home to stunning mountain landscapes, verdant rice terraces, diversity of ethnic minorities and Indochina peak. Otherwise, it is famous for wonderful climate, cool in summer, foggy and cold in winter with occasional snowfall. Travellers are welcomed to enjoy the best of Sapa all year. We offer some advice for first-timer's Sapa package tour. You should arrange your time and budget to choose the most convenient way for you.
Getting to Sapa from Hanoi
There are two options for you: taking the train or going by bus, and you can book these independently or book them as part of a tour.
One recommendation for you is to take the train in order to get more experience on the trip. Especially, you should book the overnight train to Lao Cai. Just choose this option and you will definitely love it, and the great thing is you can travel in first class for a very reasonable price.
You completely book the online instead of waiting until you get there. This saves you having to go to the station booking office and trying to book something in the last minute there! There you can book your Sapa train, as well as any other journeys you may have in Vietnam, and the rest of Southeast Asia!
Passengers spend 8 hours to get Sapa then take a minibus or private transfer to Sapa from Lao Cai Station. Tran Quy Cap is a train station in Hanoi.
The detailed itinerary in Sapa package tour
On the first day
Start the day with Cat Cat village is the old village. You will be impressed by the peacefully picturesque sceneries, which is located near the bottom of the deep valley right at the foot of Fansipan Peak. Cat Cat is home of ethnic groups with its distinctive customs and practices. The women sit in front of the loom with colorful pieces of brocade. Their children play around with pets or even livestock. You should purchase some traditional souvenirs and handicrafts right from the craftsmen such as twisting flax and weaving fabric.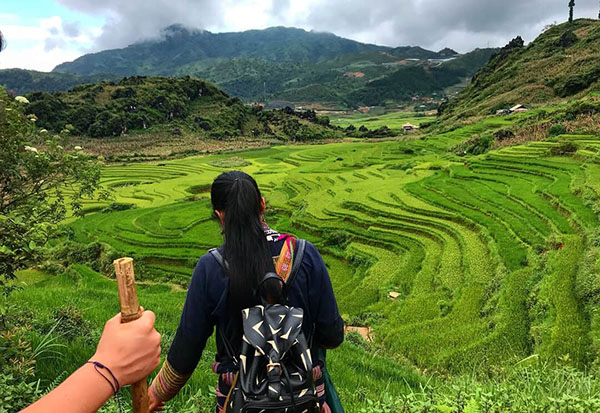 Another place in Sapa package tour is Y Linh Ho village built by a ton of small hamlets scattering on the tough mountain terrain. This village is the place where the Black Mong people live. Coming here you will see they wear very dark clothing in blacks and navy dyed with indigo. The mainly cultivate corn, dry rice are built the house. Moreover, you can enjoy the body and foot massage with a soothing herbal medicine. Even experienced trekkers enjoy the moment that they take off their hiking boots; better still if there is the chance of a foot massage.
On the second day
In the morning, you will meet your local guide at your hotel, and you will be transferred to Lao Chai village, have a short trek and meet people in Lao Chai village. After that, you will be able to walk from Lao Chai to Ta Van village where the Giay ethnic minority hill tribe lives. Ta Van village is home of many Vietnam ethnic minority groups. Tourists admire natural landscapes, and experience homestay service, as well as enjoy traditional food of this land. This village provides a great opportunity to share their customs and home life. You will be introduced how to cook the lunch by localhost then enjoy the meal in the house.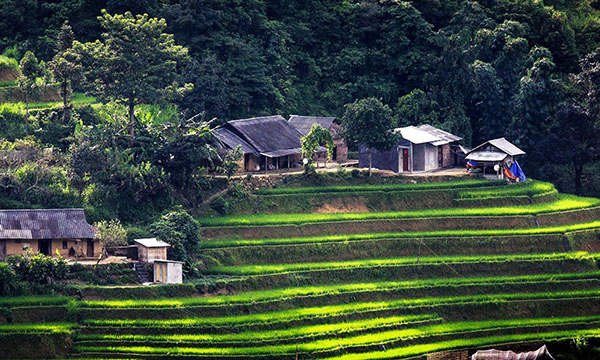 Crossing the terraced rice fields, you will also trek through a gorgeous bamboo forest which belongs to Hoang Lien National Park. Giang Ta Chai owns a picturesque waterfall and the spectacular natural scenery with the terraced rice fields. Approaching the life of H'mong local people, you can know how they make their clothing. Their many crafts, their embroidery is stunning. 
The trip will be continued to Su Pan located along Muong Hoa Valley like Lao Chai and Ta Van but Su Pan village can be referred to as "mountainous commune". Su Pan village is the most popular destination in Sapa package tour. It is famous for the best like the rice terraces, homes and a vibrant community. It is a chance for you taking the stunning mountain scenery with many opportunities to shoot more beautiful photos. This pretty village is looking down to Muong Hoa valley – one of the poorest one in Sapa district and the land of this area is very poor soil.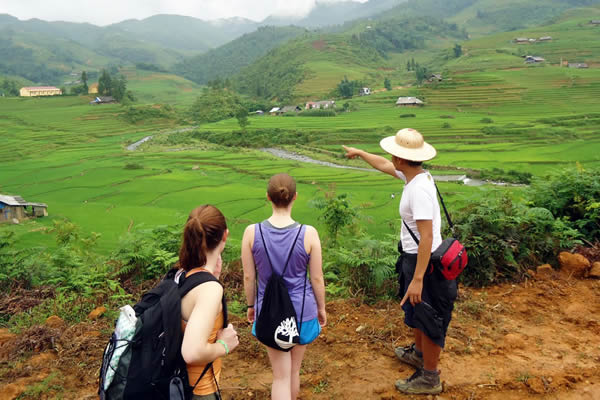 Next, you will be surprised to lots of colorful flowers in Muong Hoa valley. It is the time that the rice terraces are full of water at which you can contemplate one of the best scenery like the reflection of the sunshine on the fields' surface. Silver fall is located about a half hour from Sapa town that offers stunning views over surrounding mountains and lush forests belonging to Hoang Lien National Park.
On the third day
You will enjoy the breakfast in the highland and you have a chance to grace overview from above. The tour leads you to Bac Ha market – the largest market in the region, here you will meet Flower Hmong, Black Dao, Tay, Nung, La Chi, Phu La and other minority groups. They come here to buy and sell a variety of goods. Visitors can buy homemade handicrafts and clothes made from herbal remedies and meats such as chicken feet, horse legs, even dog to local crafts. There are many traditional foods such as Cap Nach pork, seven-color sticky rice, corn wine, Thang Co and so on.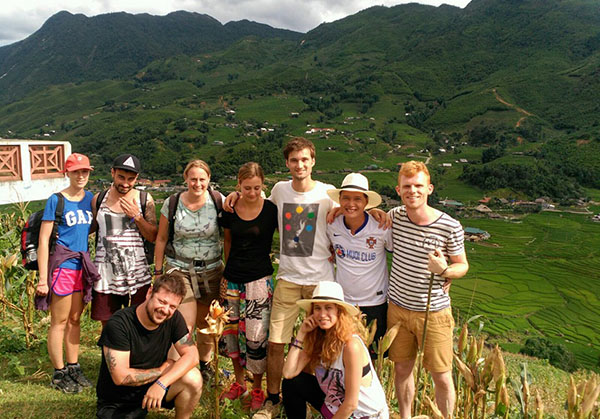 Continuously, you trek to Ban Pho village which is very famous for its specialty "corn wine". You spend 2 hours to reach this village. Ban Pho village where is a mountainous commune-Flower H'Mong people live. If you come here, you should try once time corn wine at the population and restaurants, even a small restaurant.